Are you bored out of your wits using the same old method of reading and typing? Best Pen Scanners to the rescue! This tiny device is nothing short of a magic wand when it comes to scanning any type of document and storing it on electronics devices.
Who would've thought all you have to do is scan it through the texts and voila! Thanks to pen scanners, taking notes or re-typing is now easier than ever! So, if you want to take your studies a notch higher during this pandemic, getting your hands on it is a must.
However, with so many options to choose from, settling on the right one can be a bit overwhelming. Luckily, we've taken the responsibility upon us to help with that! Sit back and relax as we bring you the best pen scanners available in the market!
Editors' Picks for Top Pen Scanners 2022
List Of Top 10 Pen Scanners
Comparison Chart For Top 10 Pen Scanners
Image
Name
Features

Scanmarker Air Pen

Connectivity Technology: Bluetooth
Battery: 1 Lithium Polymer battery required
Special Feature: Highly accurate OCR scanning function

C-Pen Reader

Connectivity Technology: USB
Battery: 1 A battery required
Special Feature: Built-in dictionary

C-Pen ExamReader

Connectivity Technology: Wireless
Battery: 1 Lithium Polymer battery required.
Special Feature: Text-to-speech converting feature

Livescribe Echo Smartpen

Connectivity Technology: USB
Battery: 1 A battery included.
Special Feature: 2GB storage

Penpower WorldPenScan X

Connectivity Technology: Bluetooth
Battery: 1 Lithium Polymer battery required.
Special Feature: Multi-language translating feature

Topscan Pen Scanner

Connectivity Technology: Bluetooth
Battery: 1 Lithium ion battery included.
Special Feature: Translates text in 40 languages.

Ectaco C-Pen 3.0

Connectivity Technology: USB
Battery: 1 Lithium-Ion Polymer battery included
Special Feature: Recognizes text including Latin, Cyrillic,and Greek

Aibecy Wand Scanner

Connectivity Technology: USB
Battery: No battery required.
Special Feature: Supports up to 32GB storage

Irispen 7 Pen Scanner

Connectivity Technology: Bluetooth
Battery: No battery required.
Special Feature: Multilingual OCR solution

Youdao Dictionary Pen 2.0

Connectivity Technology: Bluetooth
Battery: 1 C battery included.
Special Feature:
Free online update
Best Pen Scanner Reviews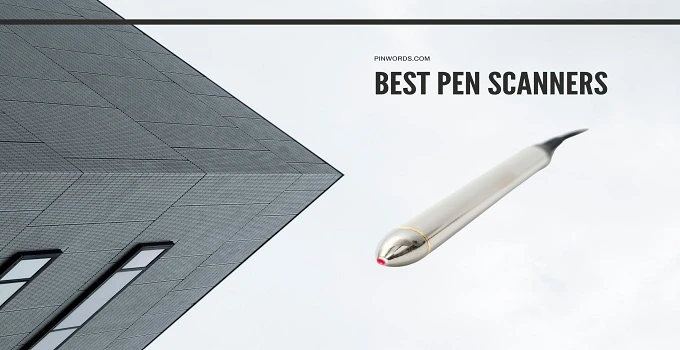 1. Scanmarker Digital Air Pen Scanner- Best Pen Scanner
With Scanmarker Air scanner you can scan up to 3000 characters in a minute! If you happen to be a multilingual student who struggles taking notes, Scanmarker is the way to go.
Not only does it type about twenty times faster than regular, but it also does a great job helping students master foreign languages.
Featuring a built-in text-to-speech function, the Scanmaker air pen scanner is capable of reading the text out loud while scanning. Be it documents or small images, the scanmarker can scan it all. Smooth design and easy-to-hold shape also make it a perfect fit for students with dyslexia.
Its ultra-portable design doesn't take up a lot of space and allows you to scan and edit on the go. Compatible with Android, iOS, and Mac, this pen scanner can directly scan into any application on your device as well.
Apart from its convenient design, the scan quality is pretty top-notch too. So, if you are clumsy and your devices tend to find their way to the floor, Scanmarker is here to take care of it!
Highlighted Features:
It comes in multiple colors to choose from.
Featuring a read-aloud function, it can convert text to speech while scanning.
It can translate text into over forty languages.

2. C-Pen Reader
Whether it's for people with reading difficulties, or students learning English, French, or Spanish, C-Pen Reader hand-down the best one to go for.
It didn't take much time for this device to rise in popularity as it's capable of displaying meaning while scanning and reading it out loud for improvised reading comprehension.
If you often find yourself saving quotes while reading, its highly accurate OCR will help you with that. Be it images, texts, or quotes, C-Pen reader will capture it real fast and transfer it to your device. This feature will especially come in handy if you happen to be an avid reader or a researcher who has to study all day long.
Does the automated robotic voice tend to get on your nerves? This pen scanner will take care of it too! It features a high-quality native voice to help you with pronunciations.
Aside from everything else, it will also allow you to record audio that can be listened to anywhere, anytime. Thanks to the USB cable feature, you can also retrieve the recorded audio files and upload them to your device.
Highlighted Features:
Integrated Collins and Oxford dictionaries to help with vocabularies.
It comes with free future updates to help you keep up with brand-new features.
Audio recording feature to help out people with limited working memory.
It will allow you to edit text while scanning.

3. C-Pen ExamReader Penscanner
C-Pen has appeared on our list yet again, but this time for its game-changing features for students with dyslexia.
Designed especially for people with reading difficulties, this pen scanner is breaking down barriers for them, no doubt in that. It aims to empower the challenged students all the while creating an equal playing field for them in exams.
Featuring a light and portable design, C-Pen ExamReader will allow reading on the go. Portable design with USB headphone feature helps dyslexic students independently participate in the exams with the earphones plugged in.
If you struggle to memorize, this scanner will come in handy for you too. The built-in voice will read the texts out loud so you can understand and memorize topics faster than ever!
Additionally, it will help you hone an accent too! The automated human-like voice can naturally speak up to six languages including British and American English. Even though this pen scanner comes with a high price tag, a sturdy design with a plethora of features makes it worth the splurge.
Highlighted Features:
Helps elevate fluency with naturally speaking digital voice.
Gives dyslexic patients to have control over studies and exams.
Portable enough to fit in pockets and carry around.
Features 1,200mAh battery for better performance throughout the day.

4. Livescribe Echo Smartpen
While this may not be the first pen of its kind, Livescribe Echo Smartpen is surely giving its competitors a good run for money. If you don't miss out on any word you hear while attending a lecture, look no further than this pen scanner.
It's the smart audio record feature that makes this pen stand out from the crowd. Featuring the Echo Desktop application, this scanner will allow you to record anything you hear on a whim. To take it to the next level, it also has a tapping button that replays the tapping button with a mere tap on the notes.
The send and share button will help you share your notes and audio files via email in a blink of an eye. Besides, if you always find yourself forgetting to click the "save" button, the echo desktop app is here to take care of that!
Whether you scan a text or record audio, it immediately saves the recording and transfers the files to storage all the while allowing easy access.
Highlighted Features:
2GB memory that can hold up to two-hundred hours of audio.
Features Echo desktop software for easy access and download.
Compatible with Micro USB cable for charging and data transferring.
Comes with a starter notebook of fifty pages.

5. Penpower WorldPenScan X
Even though this pen scanner from Penpower comes off as a regular pen scanner at first glance, there's more to it than meets the eye. Featuring, myriads of features, this scanner is hands down one of the best options in the market for multilingual students.
Power Pen is one very first company to come up with a translating feature in a scanner. Designed to be sleek and portable, it was specially made keeping in mind the students who are learning a second language. If paired with the free WorldPenScan X app, it will translate the texts for you as you scan and edit.
All you have to do is download the app on your smartphone and connect it to the scanner. Now choose your native language as default and make the most out of digitized texts in your native language.
Given the tons of features it offers, the price is relatively lower than other pen scanners in the market. So, you won't have to break your bank to get your hands on this one!
Highlighted Feature:
Hundreds of languages to meet the demand of multilingual students.
Bluetooth 4.0-BLE technology that facilitates data transmissions wirelessly.
Direct editing feature in n Word, Excel, and other browsers.
Doesn't take up a lot of time to share information.

How To Choose The Right Pen Scanner
Compatibility
The compatibility of the pen scanner is the first thing you need to inquire about when buying one. Perhaps you already know, a pen scanner functions only when you load the pen scanner software on any device, be it a smartphone, a usual desktop, or a MacBook.
So, technically, a pen scanner will not be of any use, unless the it is compatible with the devices you have. So, before making your purchase, ensure the model you're choosing connects to the devices you use.
Resolution
The next important spec you must look for is its resolution. Just so you know, the resolution is the key parameter that ascertains the quality of your scanner's outcome. Thus, having an optimum resolution is vital.
Any scanner with a DCI value of less than 300 should be out of your consideration. Word of advice: to be on the safer side, shoot for the one with a DCI value higher than 600, at least.
Scanning Speed
The scanning speed directly links to your overall experience. If the speed loiters and takes a hell of a lot of time just to scan a mere single paper, then this will surely test your patience.
The average scanning speed is 1ppm, not to mention, the higher the speed, the better the outcome you can expect to get. So, again be sure to check the scanning speed before finalizing the model.
Additional Features
As you make up your mind for a model, check further if it equips some additional features like text-to-speech application, translator, dictionary, and alike. Although these features are not indispensable, yet they are certain to uplift your scanning experience.
Read Aloud Function:This feature will make your pen scanner read the scanned text aloud. This will help you know the right pronunciation and intonation of certain words.
Translation Software: With this feature, you will be able to translate sentences from one language to another directly via scanning, without using any other third-party application.
Built-In Dictionary: This feature will unravel the meaning of unfamiliar vocabularies as you scan over them. It also works to search synonyms, antonyms, idioms, and definitions for your needs.
Frequently Asked Questions
1. How Do Pen Scanners Work?
Answer: Pen scanners are designed with OCR software that recognizes text and captures the text snippets efficiently. Once it captures the text it takes only a fraction of time to transmit data on the computer and appear on the screen.
2. What Is A Scanner Pen?
Answer: A pen scanner is a digital pen that aims to help students with reading difficulties scan, store and transfer texts as well images.
3. Is There A Device That Will Read A Book To You?
Answer: Thanks to technology, a device capable of reading a book out loud to you is no longer a dream! A digital pen scanner will do the job for you as it scans through the texts. Just make sure to go for a pen scanner that comes with an integrated text-to-speech feature.
Final Words
To sum it all up, we can all agree on the fact that, digital pen scanner is one of the most groundbreaking inventions to help aid students to date.
Not only does it relieve the burden of retyping texts from scratch, but it also does a great job reading the texts out loud for students who struggle with reading difficulties.
So, if you are planning on taking your study game to a whole new level, we highly recommend you splurge your money on a pen scanner. Now that you have made it to the end of the article, we hope you found the best pen scanners that match your demands!
Related posts:
Buy on eBay, Walmart, Etsy (quality guaranteed)
Unitech MS100-NUCB00-SG Pen Scanner, 1D Barcodes, USB - Walmart, Etsy, eBay
VuPoint Solutions Magic Wand Portable Scanner (PDS ST415 WM) - Walmart, Etsy, eBay
Scanmarker Air Pen Scanner | OCR Digital Highlighter and Reading Pen | Wireless | Text to - Walmart, Etsy, eBay
ReaderPen/C-Pen/Reading Support/Human Reader Alternative/Classroom aid - Walmart, Etsy, eBay
Scanmarker Digital Highlighter - OCR Pen Scanner and Reader - USB Version (Mac & Win) - Walmart, Etsy, eBay
IRIS 457887 Executive 7 IRISPen USB Pen-Scanner - Walmart, Etsy, Ebay
WorldPenScan X | Wireless Pen Scanner Pen and Translator | Digital Highlighter and - Walmart, Etsy, eBay
1. Scanmarker Air Pen - Walmart, Etsy, Ebay
4. Livescribe Echo Smartpen - Walmart, Etsy, eBay
5. Penpower WorldPenScan X - Walmart, Etsy, Ebay
6. Topscan Pen Scanner - Walmart, Etsy, eBay
7. Ectaco C-Pen 3.0 - Walmart, Etsy, eBay
8. Aibecy Wand Scanner - Walmart, Etsy, eBay
9. Irispen 7 Pen Scanner - Walmart, Etsy, Ebay
10. Youdao Dictionary Pen 2.0 - Walmart, Etsy, eBay