These days almost everybody has to spend a lot of their day sitting down. And while that is okay when optional, it certainly can be painful when your profession asks for it. Prolonged periods of sitting down can be a big source of discomfort without the right chair to accompany you.
But what is the right chair? Chairs are everywhere, and we use them constantly, so you might be thinking that-why need a guide? Well, chairs comes in different shapes and sizes for their different purposes.
Artists for instance spend a long time sitting down. Hence it makes sense that they would want a chair that allows them to be comfortable. When the work demands for it, you have to be choosy.
So if you're on a lookout for the Best Chair for Artists, do check out this list to find the right one for you.
Top Chair for Artists 2022 by Editors
list of Top 10 Chairs For Artists
3. Flash Furniture Chrome Drafting Stool
4. Drafting Chair Tall Office Chair
5. Flash Furniture Drafting Chair
8. Flash Furniture Low Back Designer
9. DRAGONN Ergonomic Kneeling Chair
10. Harwick Evolve All Mesh Drafting Chair
Comparison Table For Top 10 Chairs For Artists
| Image | Name | Back | Seat | Specialty |
| --- | --- | --- | --- | --- |
| | Modway Veer Drafting Chair | Form-fitted breathable mesh back | Padded waterfall mesh seat | Has a foot ring |
| | Amazon Basics Low-Back | Contoured mesh back and | 2-inch-thick padded seat | Pneumatic seat-height adjustment |
| | Flash Furniture Chrome Drafting Stool | High Density Polymer Construction | High Density Polymer Construction | Swivel Seat |
| | Drafting Chair Tall Office Chair | Mesh back | Breathable Padded Seat | Smooth Rolling Casters |
| | Flash Furniture Drafting Chair | Mid-back mesh design with lumbar support | Waterfall front seat edge | Ergonomic design |
| | Boss Office Products | Upholstered in durable Caressoft vinyl | Upholstered in durable Caressoft vinyl | Attractive chrome finish on base |
| | FRNIAMC Hydraulic Saddle | Upholstered | Upholstered | Bigger Load Capacity |
| | Flash Furniture Low Back Designer | Glossy White Vinyl Upholstery with Foam Molded Back | Glossy White Vinyl Upholstery with Foam Molded seat | CA117 Fire Retardant Foam |
| | DRAGONN Ergonomic Kneeling Chair | Does not come with a back | Mesh three-inch thick cushion | Heavy Duty |
| | Harwick Evolve All Mesh Drafting Chair | Duragrid black mesh back | Duragrid black mesh sea | Built-in lumbar support |
Top 5 chair for artists Reviews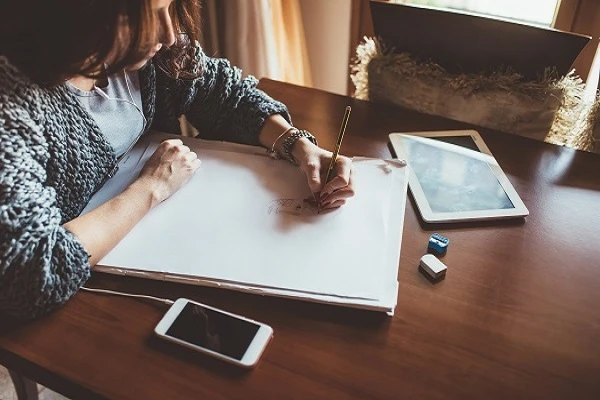 This Modway Veer Drafting Stool helps to keep your posture perfect with its form-fitted and breathable meshed back and a padded mesh seat. You can effortlessly adjust the arm height to your convenience and to complement your seating position.
Seat tilt and tension is a user friendly function which allows you to lock your back and secure it in place.
Every person has a different body weight, which reflects different on different chairs. The control knob on this chair lets you adjust it so it fits your specific body weight just right.
Single touch pneumatic lift alongside the dual-wheel casters are perfect for those who love to glide on their chairs while working. What makes this better is that it can glide just as smooth on carpeted surfaces-something offices and workspaces tend to have.
The foot ring at the bottom completes this chair along with the extended gas cylinder.
While it is categorized as an 'office chair', it can surely be used in other places- be it school or home. Dimensions on this chair come as 26" L x 26" W x 42"H, with overall 49.5 inches in height and a cushion thickness of 2.5 inch. Dimensions of the backrest are 18.5" W x 22"H, and of the armrest are 10" L x 3" W x 2" H.

Highlighted Features
Comes with flip up arm rests
Foot ring is adjustable too
There are five dual wheel casters
Adjustable tilt and tension lock
2. AmazonBasics Low-Back Computer Task Office Desk Chair - Best Desk Chair For Artists
Combining style with comfort, this AmazonBasics Low-Back Computer Chair is a computer and task chair in one. It comes with a mesh back which helps to support you nicely and provides breathability.
Dimensions on the chair are 22.5" long x 21.5" wide x 30.5"-34.5" high. Smooth contours on the chair allow for maximum comfort, and the adjustable settings are like the cherry on top here.
While most chairs as such comes in monochromes, this one comes in a range of different colors. So you can get one to match your décor or interior, without it having to standout.
The pneumatic controls are simple to use and lets you lower or raise your seat with ease. For a comfortable seating position there is the flexible task chair. This is important because prolonged periods of sitting at a desk can be tiring on the back.
So if you want to elevate the seat, simply lean forward and pull the chair's control handle. And if you wish to lower it, stay put and do the same. It is as easy as that!
Both the seat and back of this chair is mesh covered and contoured to hug your back. This is done so that you can comfortably move around without discomfort. You also get lower-back body support as well as border detailing.

Highlighted Features
Has pneumatic seat-height adjustment
Weight capacity is 250lbs
The 2 inch padded seat provides utmost comfort
Comes with smooth, uninterrupted rolling casters
This contemporary drafting stool from Flash Furniture comes with numerous features customers enjoy. First of all there is the comfort molded tractor seat that gives you comfort for long periods of work.
The adjustable height feature ensures you get your desired height with different workstations. This chair comes with a 5.5 inch seat height range, with a minimum of 20.25 inch and a maximum of 25.75 inch. Pneumatic adjustment lever under the seat allows you to change height easily.
A sturdy chair is a good chair. It is one of the first things we notice when buying such furniture. As this chair comes with a heavy duty chrome base and dual wheel casters, you will find this to be one of the sturdiest.
Versatility is another great feature of this chair. Just because you're an artist doesn't mean you don't move around. Get the most out of your investment, because this stool will serve you in more places than one. Be it at workbench in a garage, a desk in your office or even your kitchen island. The swivel seat and back are constructed from high density polymer. This increases durability while giving a sleek and shiny finish to the chair.
The plastic floor glides help to protect the floor during the sliding and gliding. The chrome base and the foot ring, besides being functional, add to the outlook of the chair for a modern contemporary look.

Highlighted Features
High Density Polymer Construction
Comfort Molded "Tractor" Seat
4. Drafting Chair Tall Office Chair - Best Chair For Makeup Artists
Makeup artists too have to spend a lot of time on their chairs, making buying the right chair a very important decision. Good air permeability for instance is an important factor. With the mesh back promoting air circulation, this chair provides you air permeability, and lets you sit for hours without feeling discomfort.
The lumbar supportbuilt in makes sure you do not get any muscle fatigue or back strain. Adjustable features on this tall office chair mean you can adjust it to your needs. From the seat height to the foot ring and armrests, all can be easily moved for your comfort.
Full 360 swivel lets you move around smoothly without having to get off your chair. Sit tight while experiencing flexibility.
Durability plays a big part when buying a good chair. The nylon base on this chair makes it heavy duty and safe for long day uses.
Smooth rolling casters ensure multidirectional movement. It requires the least amount of effort to move from one place to another, all while remaining seated.The soft PU material casters are added to protect or floor or carpets while moving, so you don't end up damaging them.

Highlighted Features
Instructions easy to follow and assemble
Can support up to 300 pounds
Three-degree curved seat complements body curve
Has reliable 5-claw chair legs
5. Flash Furniture Drafting Chair - Best Chair For Digital Artists
Perfect for your home or office, this Flash Furniture Drafting Chair caters to artists, lab technicians and engineers with its ergonomic design and maximizes your productivity Breathable mesh on the chair lets air to circulate properly. This ventilation makes it easier for you to stay seated for long hours without discomfort.
Syncro tilt is a feature that lets you recline at different degrees. It increases the angle between your thighs and torso, helping you stay relaxed. High seat range is especially created so you can use this at spaces with higher height-like bars and counters.
The backrest is contoured to provide you with back support firmly. This feature make sure you don't feel any pain even after sitting for hours. The front seat comes with a waterfall design, so your legs do not feel any pressure, all the while improving circulation.
Throughout the entire chair, extra padding is added. Like the armrests, which flip up and out when needed. Integrated chrome foot ring lets you rest your feet while you work and prevents pressure on the feet.

Highlighted Features
Mid-back comes with mesh design
Swivel base allows for easy maneuverability
Features adjustable height
Pneumatic adjustment lever makes changing height a breeze
What are the benefits of artist chair?
Artist chairs give artists the perfect working environment. Sitting for hours at a time can be really tough on the back and legs, but artist chairs relieve this by providing support in all of the right places. They also provide a stable base so that artists have a solid surface to work on and can pivot easily when sketching or drawing with their hands or painting.
1) Improve posture and let the body sit in a more natural position
2) Relieve pressure on back and neck from hunching over your work
3) Provide a stable platform to work on
4) Keep your tools within easy reach (pouches or drawers)
5) Provide a comfortable resting spot for your legs while you work, especially when your knees start to hurt after hours of sitting.
Is artist chair is good for long sitting?
A professional artists chair is an active part of your work space. It not only provides a place to sit but also gives your creativity space to grow. We've all been there. Those boring meetings or classes that you sit in for hours on end. It's completely natural to let your mind wonder. If you're stuck in a long meeting and you're not paying attention, then your creativity is actively being sucked out of you. And what about those long nights of coding? That's sure to parch your brain, too! Your job should not be hazardous to your health! Artist chairs are the key to preventing circulation blockages, which can lead to many health problems over time. They provide a comfortable place for you to sit while maximizing blood flow in your legs which reduces chances of possible blood clotting and other dangerous conditions like deep vein thrombosis.
Artist chairs are a comfortable place to stay for hours of sitting. They provide great back and lumbar support in addition to being adjustable for those who need extra help with their posture. The same goes for desks. A modern artist desk is a great utility to have in your workspace as it not only provides a platform to do your work but also helps you keep your arms at the correct angle while typing or writing, preventing possible Carpal Tunnel Syndrome.
So it can be said that artist chair is good for long sitting.
How To Choose The Best Artist Chair
Chair Ergonomics
This is a factor you need to have special focus on, for the long run performance depends on it. In the case of the Best Artist Chair, what ergonomic refers to a chair that is easily adjustable. Meaning it should be able to adjust to your differing needs.
Be it a change of height (16 inches is a good range), does it have seat tilt (a 5 degree range forward and back is good). Can you change these while sitting on the chair? Does it swivel 360 degrees smoothly? How much is the depth, and how much can you adjust it? Does it recline well?
Ask yourself all these questions before buying a chair, and definitely test these out when you first get your hands on it.
Comfort Level
The main reason behind spending time here is to find a comfortable chair. And the best way to do so is to physically test it. If you are buying from a showroom you get that option. However if you are purchasing online, make sure to check customer reviews before adding to cart, and definitely test it out when it arrives so you have the option to change.
Base Stability
This is very important. If the base is not stable, the chair will not be long lasting, neither comfortable to use. While most come with wheels, some do not. Ones with wheels give you more control, lets you move freely without feeling stuck in a place.
Other than that, it also makes it easy to move around. However if you want a chair to help you stay grounded, wheels are not for you. So it boils down to personal preference at the end of the day.
Durability
An artist chair is not something we buy every day. We expect it will be in use for a good while, making it an investment. Therefore durability is a feature you must look into, so you know you are getting what you are paying for.
Artist Chair Frequently Asked Questions
1. What Is The Best Chair For Sitting All Day?
Since you will be sitting for long hours, you need to choose a chair that is designed to give you the utmost comfort.
Herman Miller Embody Ergonomic Office Chair is the one you can look at. This ergonomic chair is designed by over 20 physicians and PhDs to ensure you get sustained comfort and support. It adjusts to any body shape and gives you the feeling of 'floating' as you sit on it.
2. Which Chair Is Best For Posture?
It's important to maintain proper posture as you are sitting. Otherwise, you will complain about muscle pain.
The chair you should be looking for is the one that let you maintain contact with the backrest, support your lumbar spine, keep your feet flat to the ground and relax your arms at an angle of 90 degrees.
Since everyone has different body types, you should look for the one having adjustable settings. One such chair worth using for proper posture is the NOUHAUS Ergo3D Ergonomic Office Chair.
3. What Is The Best Chair For Crafting?
Crafting requires focusing on a specific task for long periods of time. In this case, you might want to look for a chair that offers adjustable seat height, lumbar support, sufficient cushioning, caster wheels, and an armless design for free movement.
The
Arrow H7013B Craft Chair
ensures you keep on crafting comfortably as long as you want.
Final Word for Artist Chair Buyers

Any artist, regardless of what kind, can vow to the fact that the right chair is important to their work. It provides the right support, it allows them to move freely, and be flexible, all the while being sturdy. These and many more factors together make the Best Chairs for Artists.
Our list caters to more than one kind of artist. So no matter which category you fall under, you will surely find something here suited to your needs. Remember, a comfortable artist creates the finest art! So take your time, skim through and head out to find your new art partner.
Artist Chair Related posts:
Buy them at Etsy, eBay, Walmart (subject to availability)
Office Chair Home Office Desk Chair Task Mid Back Mesh Chair Ergonomic Swivel Lumbar - Walmart, Etsy, Ebay
BestOffice PC Gaming Chair Ergonomic Office Chair Desk Chair with Lumbar Support Flip Up - Walmart, Etsy, eBay
Gabrylly Ergonomic Mesh Office Chair, High Back Desk Chair - Adjustable Headrest with - Walmart, Etsy, Ebay
Herman Miller Aeron Ergonomic Chair - Size B, Graphite - Walmart, Etsy, Ebay
Steelcase Gesture Office Chair - Cogent: Connect Graphite Fabric, Low Seat Height, Shell - Walmart, Etsy, eBay
CRAFTSMAN Fixed Height Work Shop Stool, 28.5-inches Tall, Rip-Resistant Padded Vinyl - Walmart, Etsy, Ebay
Amazon Basics Adjustable Activity Office Tilt Stool, Black - Walmart, Etsy, Ebay
1. Modway Veer Drafting Chair - Walmart, Etsy, Ebay
2. Amazon Basics Low-Back - Walmart, Etsy, Ebay
3. Flash Furniture Chrome Drafting Stool - Walmart, Etsy, eBay
4. Drafting Chair Tall Office Chair - Walmart, Etsy, eBay
5. Flash Furniture Drafting Chair - Walmart, Etsy, eBay
6. Boss Office Products - Walmart, Etsy, eBay
7. FRNIAMC Hydraulic Saddle - Walmart, Etsy, eBay
8. Flash Furniture Low Back Designer - Walmart, Etsy, eBay
9. DRAGONN Ergonomic Kneeling Chair - Walmart, Etsy, eBay
10. Harwick Evolve All Mesh Drafting Chair - Walmart, Etsy, eBay
Herman Miller Embody Ergonomic Office Chair - Walmart, Etsy, Ebay
NOUHAUS Ergo3D Ergonomic Office Chair - Walmart, Etsy, eBay
Arrow H7013B Craft Chair - Walmart, Etsy, eBay