Are you a crafty person? Or someone new to this world of creativity?
Whichever you are, with a little bit of assistance from the right printer, you can beautify your scrapbooks to make your memories even more precious.
Scrapbooking is not only for teens. It is a unique way to preserve your memories with personalized texts and pictures- regardless of your age. If you start scrapbooking, a few years later you will thank yourself while going down the memory lane.
But finding the ultimate best printer for scrapbooking is a tough nut to crack. Moreover, for scrapbooking, you should always go for a printer that comes in handy for your regular print jobs as well.
Keeping this in mind, we have come up with a list of top 10 printers for scrapbooking. We have also included a buying guide. It will help you in jotting down the crucial aspects you should scrutinize before making your purchase.
Top Printer for Scrapbooking 2022 by Editors
List of Top Printer For Scrapbooking
8.Epson Expression Photo HD XP-15000
Comparison Chart For Top 10 Printers For Scrapbooking
Image
Name
Features

Canon Pixma iX6820

Speed:5 ppm
Resolution: 9600 x 2400 dpi
Functions: Print

HP ENVY 5055

Speed: 10 ppm
Resolution: 4800 x 1200 dpi
Functions: Print, copy, scan

Canon PIXMA TS6220

Speed: 15 ipm
Resolution: 4800 x 1200 dpi
Functions: Print, copy, scan

Epson WorkForce WF-7710

Speed: 18 ppm
Resolution: 4800 x 2400 dpi
Functions: Print, copy, scan, fax

Epson EcoTank ET-2720

Speed:5 ppm
Resolution: 5760 x 1440 dpi
Functions: Print, copy, scan




HP OfficeJet 5255

Speed: 10 ppm
Resolution: 4800 x 1200 dpi
Functions: Print, copy, scan, fax

Canon PIXMA TR4520

Speed:8 ipm
Resolution: 4800 x 1200 dpi
Functions: Print, copy, scan, fax

Epson Expression Photo HD XP-15000

Speed:2 ppm
Resolution: 5760 x 1440 dpi
Functions: Print

HP OfficeJet Pro 8035

Speed: 20 ppm
Resolution: 4800 x 1200 dpi
Functions: Print, copy, scan, fax

Canon Pixma MG3620

Speed: 9 ppm
Resolution: 4800 x 1200 dpi
Functions: Print, copy, scan
Best Printers For Scrapbooking Reviews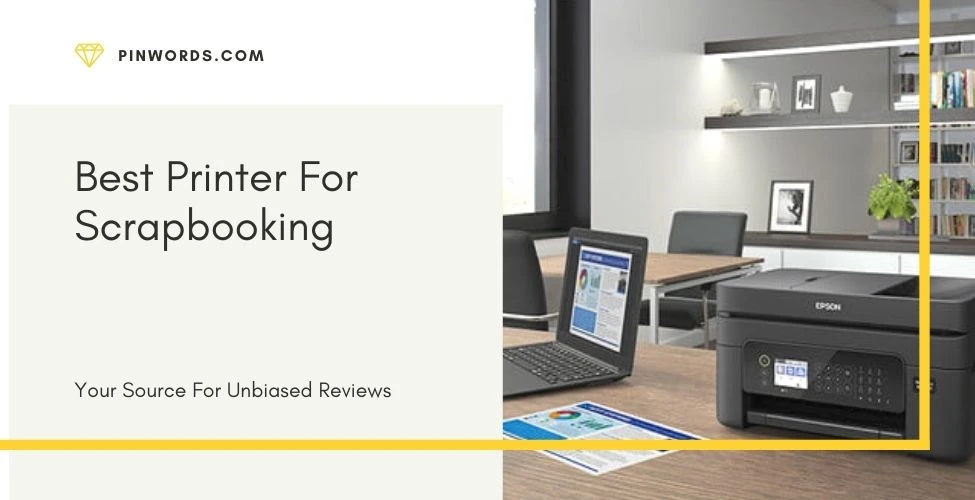 1. Canon Pixma iX6820- Best Photo Printer For Scrapbooking
Canon Pixma iX6820 can be a perfect option for you if you are scrapbooking as a hobbyist or dealing with a small business. With this compact inkjet printer, you can generate high-resolution prints at a great speed.
You can connect this printer to your host devices via Ethernet or Wi-Fi. It also supports AirPrint, Google Cloud Print, PictBridge, PIXMA Printing Solutions.
Furnished with 5 distinct ink tank system, this machine can deliver richly pigmented materials to adorn your scrapbook. Moreover, it offers 9600 x 2400 dpi print resolution. Hence, your printouts are going to be sharply detailed.
Want to grace your scrapbook with some precious moments from your favorite video clips? With its Full HD Movie Print software, you can easily turn those moments into images and then print them.
However, this is only applicable for the videos shot on Canon EOS Digital SLRs, VIXIA camcorders or PowerShot digital cameras.
The printer has got a decent speed. It can generate up to 14.5 grayscale ppm or 10.4 color ppm. This wonderful printer is compatible with a varied range of media up to 13" x 19″.
The machine comes with 'My Image Garden' to make your images flawless before printing them. You can also personalize your pictures as per your taste. After all, scrapbooking is all about that! Not just that, it also offers some downloadable templates to embellish your scrapbooks.
You can pass on your scrapbooking delicacies to your next generations. Equipped with ChromaLife100+, your prints may last up to 300 years unless you place them in an extremely shabby place.
So, if you are planning to scrapbook for your newborn child or an endearing nephew/niece, this can be the perfect option for you.
For those of you who get headaches from noisy machines, its 'quiet mode' can be a breath of fresh air. Moreover, it gets automatically powered on upon being sent a file for printing.

Highlighted Features
Produces impeccable prints with 9600 x 2400 dpi.
Can convert images from selected video clips.
Compatible with a varied range of papers up to 13″ x 19″.
Paces at a rate of maximum 14.5 ppm.
5 distinct ink tank system.
2. HP ENVY 5055- Best Printer For Scrapbookers
If you are looking for a cost-effective inkjet printer, HP ENVY 5055 could be the one for you. As this printer is eligible for HP's Instant Ink Program, you can get ink cartridges delivered to your doorstep by maintaining a monthly plan.
You can set up this printer effortlessly with the HP Smart app. It is equipped with USB, WIFI and Bluetooth connectivity features. It also supports HP Smart App, Apple AirPrint, Mopria, HP ePrint. Apart from that, it is Cloud print enabled.
This machine can cooperate with different kinds of papers from 3" x 5" to 8.5" x 14". Therefore, you can glamorize your scrapbook with the media of your choice.
For grayscale prints, you can avail print resolution up to 1200 x 1200 dpi. But when print colored documents, the maximum resolution is 4800 x 1200 dpi.
So, I guess I do not have to articulate in words how precise your printouts are going to be. The numbers yell it all.
If you give this machine merely 16 seconds, it can print out your first black file. As for the colored one, it takes 19 seconds! Every minute, it generates maximum 10 black or 7 color prints.
This machine also comes with a 1200 x 1200 dpi scanner. So, if you need to digitize any picture or document, do it with intricacy.
This machine has a remarkable paper handling facility. You can utilize its 100 sheets input tray for comfortable media feeding. Additionally, it has an output tray to accommodate 25 prints before you stick them to your scrapbook.
Want to know your ink level? Activate Amazon Dash Replenishment service. With this service, your printer can also reorder inks when running low on it.
The recommended monthly duty cycle of this machine is 1000 pages. You can verbally control it if you already have Amazon Alexa.

Highlighted Features
Offers 4800 x 1200 dpi print resolution.
Can be used for printing, scanning and copying.
Maximum print speed is 10 ppm.
Compatible with a varied range of papers.
Allows voice-controlling.
3. Canon 2986C002 PIXMA TS6220- Best Photo Printer For Scrapbookers
Canon PIXMA TS6220 is another apt choice for you if you want a simplistic printing experience. With the 5 individual ink system printer, you can print luscious outputs to enhance your scrapbook.
This cost-effective machine does not demand you to purchase an entire set of colors if you run out of just one. Just get the one you need and you are good to go.
You can easily navigate through its 3″ LCD touchscreen. For establishing a connection, you can access its built-in Bluetooth or Wi-Fi feature. If you prefer a wired connection, it also has a USB port.
Other than that, it allows PictBridge, Mopria Print Service, Google Cloud Print, Apple AirPrint.
Equipped with maximal print resolution of 4800 x 1200 dpi, the printer makes sure that you are rewarded with unblemished and well-toned printouts.
Moving on to speed, it will not make you wait much. It races at the rate of 15 grayscale ipm or 10 color ipm.
Want to scan the pages of your scrapbook so that they never get lost? Make good use of its 1200 x 2400 dpi internal scanner.
To minimize your number of paper refills, this machine is sanctioned with two input trays. You can keep 100 sheets in each of them.
Canon Creative Park Premium, Canon Easy-PhotoPrint Editor, Auto Photo Fix, Canon My Printer, Canon Network Tool are some of the features and software which will make your printing journey much smoother.
You can experiment with a versatile range of media up to 8.5″ x 14″ with this machine. Glossy photo paper, plain paper, matte photo paper, semi-gloss photo paper, high-resolution paper, semi-gloss photo paper, luster paper, cards are a few of them.
If you have been pining over the faded color of your favorite photo, this machine can bring it back to life. So, reprint it and make it good as new.
As the printer is blessed with Canon ChromaLife100 ink, your photos can last up to 300 years. so, make memories and make your scrapbook timeless.

Highlighted Features
Can print, copy and scan.
Equipped with 4800 x 1200 dpi print resolution.
Races at the rate of a maximum 15 ipm.
Makes old photos anew.
Comes with two input trays.
4. Epson WorkForce WF-7710- Best Printer For 12x12 Scrapbook Pages
Now let us introduce you to magnificent Epson WorkForce WF-7710. With this printer, you can print ravishing prints for your scrapbooks.
You can set it up in a breeze. This machine can be connected to your home network via Wi-Fi. It also comes with Ethernet and NFC features. You can also print directly from different Cloud accounts.
You can count on its 4x DURABrite Ultra Ink cartridges for it will provide you with flawless and durable pictures. The print resolution of this machine is 4800 x 2400 dpi. Therefore, your prints will turn out to be ornate and you will surely love them.
The printer paces at a laudable rate. It prints 18 black ppm or 10 color ppm.
This printer accepts a different range of media. It offers a massive input tray where you can place 250 sheets. Its output tray is capacitated to hold 125 sheets.
Moreover, it has an ADF where you can stack up 35 sheets at once. The rear feed is going to prove to be a delight for you while dealing with specialty media.
You can digitize your neatly crafted scrapbooks with its 1200 x 2400 dpi scanner. The quality will be topnotch.
This is an Energy STAR certified printer as it consumes 80% less energy than most other laser printers. Thus, it is an eco-friendly as well as user friendly printer.
Subscribe to Amazon Ink Replenishment service to stay well aware of your ink level. It also enables your printer to place reorders in advance for inks before running out.
The maximum monthly duty cycle of this printer is 20,000 pages. But if you want to adhere to the recommended volume, it is 1300 pages.

Highlighted Features
Can print, copy, scan and fax.
Produces unparalleled pictures with 4800 x 2400 dpi.
Runs at a rate of 18 ppm.
Accepts different kinds of media.
Has flexible connectivity features.
5. Epson EcoTank ET-2720- Best Printer Digital Scrapbooking
To wrap up this segment perfectly, we have come up with Epson EcoTank ET-2720. With this RoHS compliant printer, you can print, copy and scan adeptly.
This machine comes with Wi-Fi, Ethernet and USB connectivity options. It also allows Mopria, AirPrint, Google Cloud Print.
The 2.4" color display of this printer is easy to command. You can also voice control the machine if you have Google Assistant or Amazon Alexa.
This printer can ensure up to 5760 x 1440 dpi print resolution for your printed goodies. Hence, you can deck up your scrapbooks with vivid and meticulous pictures and texts.
This machine can replicate 10.5 black pages per second. However, when you print color photos, the speed will reduce to 5 ppm.
This all-in-one printer offers a scanner having a resolution of 1200 x 2400 dpi. However, the quality can be elevated to maximum 9600 dpi for added precision.
For paper handling purposes, it offers a paper tray that can hold 150 sheets at once. It is well-suited with different kinds of papers. The maximum size is 8.5″ x 14″.
This ENERGY STAR certified machine goes easy on your electricity consumption. Besides, it decreases your ink supply cost to 90%. You can refill its enormous 'supertank' with 4 Ecofit ink bottles and it will last for 2 years.
To complement your printing endeavor, this machine comes with ink bottles in the package. And you know what? That too of worth 2 years'!
By refilling your ink tank once, you can print up to 7,500 color or 4, 500 black pages. It will take 80 ink cartridges for other printers to print so many pages! However, always purchase authentic Epson ink supplies for the finest outcomes.

Highlighted features
Designed to print, copy and scan.
Offers print resolution up to 5760 x 1440 dpi.
Is ENERGY STAR certified.
Prints maximum 10.5 pages per minute.
Can be voice-controlled.
Printer For Scrapbooking Buying Guide
Inkjet Or Laser?
Truth be told, there cannot be any definitive answer. It varies from user to user. Inkjet printers are inexpensive and give you an amazing finish. However, they come with a high-maintenance cost as you have to purchase their inks quite frequently.
On the other hand, the initial cost of laser printers may be higher but their maintenance cost is low. Besides, they have got great speed. But if you are someone who does not print quite often, you should not buy laser printers. The reason is a large amount of their toner may dry up if you keep them unused.
Resolution
The print quality of a printer determines if a printer is good or not. Everything else is just a bonus point. The best scrapbooking printer will never compromise with its resolution.
The resolution of a printer is measured in 'dpi' or 'dots per inch'. It expresses how thoroughly a machine can capture the pixels of its source material. So, if you want gasp-worthy scrapbooking materials, never settle for low resolution.
Paper Handling
If you do not want to make a mess while printing, get yourself a printer that comes with well-capacitated paper trays for different purposes i.e. input trays and output trays.
Besides, your printer should be compatible with a wide array of media. If you work with specialty media, it should have a manual slot or rear feed for them. Other than that, for the most comfortable printing journey, you should look for a printer with an automatic document feeder.
Cost-Efficiency
Your crafting should not cost you a fortune. There is an abundance of printers in the market that are compatible with inexpensive yet good quality printing supplies. From time to time, you have to purchase papers, ink/toner and other accessories for your printer.
Make sure that their cost does not put a heavy burden on your wallet. Besides, you should go with printers that can generate a great volume of pages with each replacement of inks/toners.
Which paper is used for scrapbooking?
You have just made a diary for your child or yourself. You want to preserve this in the best way possible. It is important that you pick the right paper that can help your book last for many years. You should choose a paper with characteristics that are important to you as they will help make the most out of what is happening in your life. Scrapbooking papers are found in three sizes and each size has many different types of papers that you can choose from such as card stock, cotton, and patterned papers. Expect to find an endless variety when it comes to scrapbooks, but this will be worth it if you get the perfect one!
The paper that you choose for the scrapbook should be soft and have a texture in order to create an authentic feel to the book. Also, your paper should be sturdy enough so that it doesn't tear with constant handling as this may ruin your project.
There are a few types of paper that are used by enthusiastic scrap-bookers. These are acetate paper, cardstock, and regular printing paper.
Acetate paper: These are special transparent papers that can be made into different artistic pieces. When you glue these papers one on top of the other, you get a three-dimensional effect. A whole scrapbook can be made using these sheets as the cover paper.
Cardstock: These are basically sturdy printing paper that has been treated with acrylics to make it shiny and glossy. The thickness of cardstock is almost exactly like that of printer paper, but it is smoother and more durable. These printing papers make great covers for scrapbooks.
Printing Paper: It is mainly used for writing on by using inks or markers, as well as drawing. This kind of paper can also be colored using crayons, pencils or water paints. Printing papers are perfect for use in card making, crafting and scrapbooking because they can easily absorb inks and dyes without affecting its quality or texture. Some examples are bond papers, computer papers and copy papers.
How to make a Scrapbook?
Do you remember what your favorite photo was from when you were a kid? Did it remind you of anything in particular? Maybe it was a vacation or a family event. Nowadays, however, most people just take plenty of photos then throw them away without ever actually looking back at them.
That's no fun, especially when a photo is a reminder of something that's important to you. If you've got photos that look nice and aren't the least bit sentimental, then they can be turned into scrapbooks.
It Happens To Be Easy
Creating scrapbooks is very easy, and the minimal supplies you need are pretty cheap and easy to come by. It's also possible to create your own design themes for your scrapbook pages without even involving expensive software like Microsoft Publisher or Adobe Photoshop.
You'll Need
The first step to creating scrapbook pages is to find photos that will fit on each page. The next step is to find the right paper for the background; if you use backgrounds with color, then you'll want to choose a photo that has a similar color scheme.
A typical scrapbook page will have at least one photo on it, one or two decorative papers, and at least one journaling spot. This journaling spot is an optional part of scrapbooking, but it's there so you can write down some bygone memories about what's in that photo.
Before you can start putting things together, you'll need to find a sturdy binding method. The easiest way to do this is to use double-sided tape. However, double-sided tape leaves glue residue on the pages, and it's recommended that you avoid using it for scrapbook pages at all costs.
The books are more difficult to make than scrapbooks because they have a page sized of 9x12 inches (22x30 cm), which is much smaller than the 18x12 inch (46x30 cm) size used for scrapbooks.
Instead of using a book with paper already glued into its pages, you could use a photo album and cut out the pictures then glue them into the booklet. You could also use a composition notebook or use regular printer paper and cut it down into the right size for the scrapbook.
Sometimes, you will be left with extra space at the end of a page, which means you can add in other things like ribbons or other decorations to fill it in. There are many different designs you could choose from when making scrapbooks; you can choose from doodling or using symbols and quotes.
Using Symbols And Quotes
Scrapbooking is all about how much fun it is to put different things together to create your own custom look. You can use symbols and quotes to add some flair to your scrapbook pages.
For example, try using symbols like arrows or triangles for arrows pointing toward the picture you want to focus on. Quotes are useful for adding a little bit of text to your page, but it can also be done as a design element by itself.
There's nothing wrong with mixing up different scrapbook themes so that you can have more variety in the way your book looks. Scrapbooking can be as simple or as complex as you want it to be.
If You Want It To Look Even Nicer, Then You Can Add In Some Decorative Elements
There are a number of things that you could add your pages to make them look even prettier. You could put in ribbons for example, beads or other fabrics. However, if you want to give your scrapbook page a little more flair, there are some great scrapbook embellishments that you can use.
There's no right way of doing this; sometimes it takes a lot of trial and error until the right combination feels right and looks good for what you're trying to do with the scrapbooking page.
Frequently Asked Questions
1. Can You Put Scrapbook Paper In The Printer?
Yes, you will be able to put your scrapbook paper in the printer and print pictures, text, clip art, or anything else using the wide-format print. However, the paper of the fancy scrapbooks is mostly transparent and glossy. A printer that has the ability to print on transparent papers can be used to print on scrapbook papers.
2. How Do You Print Pictures For Scrapbooking?
The printing process of pictures for scrapbooking is pretty similar to printing on regular papers. However, you will need to follow a few tips to get the best possible outcome.
First of all, choose the highest quality so that the image doesn't print with lines on it and has the most vibrant colors. After printing the pictures, you will need to cut them according to your required size and attach them to the scrapbook.
3. What Kind Of Paper Do You Use For Scrapbooking?
The cardstock papers are mostly used for scrapbooking. This paper is quite heavy and stiff, perfect for attaching pictures, cutouts, clip arts, and more. It is also acid-free, making it perfect for scrapbooking. Although there are other scrapbook papers, the cardstock stands out as it comes in various colors, finishes, and textures.
4. What Is The Best Printer For Glossy Paper?
A printer that is able to print any pictures or text on glossy paper without spilling any ink. There are many modern printers that are compatible with glossy paper; among them, the Xerox VersaLink C400/DN is one of the finest units. It is equipped with laser printing technology and offers a powerful printing performance.
5. How Do You Use Glossy Photo Paper In A Printer?
Before using the glossy paper in a printer, you will need to ensure that the printer supports the glossy paper media type. After that, set the glossy photo paper in the tray. Hold the paper in such a way that your fingerprints don't get on the shiny surface. Slide the paper right in until it stops.
Final Words
There are plenty of printers in the market. But not all of them are worth your money.
We hope our article has brought you one step closer to finding the best printer for scrapbooking. Before finalizing any product, ask yourself again if its resolution, speed, paper handling, functions are up to the mark. Its duty cycle must also surmount to your needs.
If you are satisfied with all of these features, then you may take a leap of faith and find out on your own if the printer is true to its claims.
Happy printing!
Related posts:
Buy now at Walmart, Etsy, eBay (quality guaranteed)
Canon Pixma iX6820 Wireless Business Printer with AirPrint and Cloud Compatible, Black, - Walmart, Etsy, Ebay
Epson EcoTank ET-2720 Wireless Color All-in-One Supertank Printer with Scanner and Copier - Walmart, Etsy, eBay
HP OfficeJet 5255 Wireless All-in-One Printer, HP Instant Ink, Works with Alexa (M2U75A) - Walmart, Etsy, Ebay
HP ENVY 5055 Wireless All-in-One Photo Printer, HP Instant Ink, Works with Alexa (M2U85A) - Walmart, Etsy, eBay
WorkForce WF-7710 Wireless Wide-format Color Inkjet Printer with Copy, Scan, Fax, Wi-Fi - Walmart, Etsy, eBay
Canon PIXMA TR4520 Wireless All in One Photo Printer with Mobile Printing, Black, Works - Walmart, Etsy, eBay
Canon Pixma MG3620 Wireless All-In-One Color Inkjet Printer with Mobile and Tablet - Walmart, Etsy, Ebay
Epson Expression Photo HD XP-15000 Wireless Color Wide-Format Printer, Amazon Dash - Walmart, Etsy, eBay
HP OfficeJet Pro 8035 All-in-One Wireless Printer - Includes 8 Months of Ink, HP Instant - Walmart, Etsy, Ebay
Canon 2986C002 PIXMA TS6220 Wireless All In One Photo Printer with Copier, Scanner and - Walmart, Etsy, Ebay
8.Epson Expression Photo HD XP-15000 - Walmart, Etsy, eBay
9.HP OfficeJet Pro 8035 - Walmart, Etsy, eBay