Printers today are a requirement for most people and their work. However, one certain profession makes it a must have for their work- Photographers.
To see how their photos looks on paper, to showcase their photos at galleries, to build their portfolio, and to even get contractual work, printers are an integral part of their daily lives.
But alongside all the photography equipment, a printer can seem expensive. This is why we have listed some of the best photo printers under $200 for you!
This article covers some of the top models in the market today, along with comparisons with their competitors so you get a better understanding of what you need.
It will help you see the common features provided, so you can tell which products stand out. If you want an affordable printer that packs a heap of features at the same time, look no further and check out what we have below.
Editors' Picks: Top Photo Printers Under $200 2022
List of Top 10 Photo Printers Under $200
Comparison Chart for Top 10 Photo Printers Under $200
Image
Product
Resolution (dpi)
Speed
Specialty Feature
HP OfficeJet 3830
1200

8.5 ppm black, 6 ppm color

35-sheet auto document feeder
Canon Pixma MG3620
4800 x 1200

9.9 IPM black, 5.7 IPM color

Scanning Resolution is 1200 x 2400 dpi
Brother HL-L2350DW
2400x600

32 ppm

Automatic 2-sided printing
HP OfficeJet Pro 6978
1200

20 ppm black, 11 ppm color

35-sheet auto document feeder
Canon SELPHY CP1300
Color256 Levels Per Color

4x6 inch in 47 Seconds

3.2-inch Tilt-up Touch LCD
Epson Workforce WF-2860
4800x1200

14 ppm black, 7.5 ppm color

150-sheet paper capacity
HP LaserJet Pro M15w
600x600

19 ppm

150 sheet input capacity
100 sheets output capacity
Canon Pixma iP110
9600 x 2400

20 ppm black, 14 ppm color

50-sheet auto sheet feeder
HP Envy Photo 7155
1200

14 ppm black, 9 ppm color

2.65-inch color touchscreen
Canon PIXMA TR4520
4800x1200

8.8 ipm black, 4.4 ipm color

Auto duplex printing
Best Photo Printers Under $200 Reviews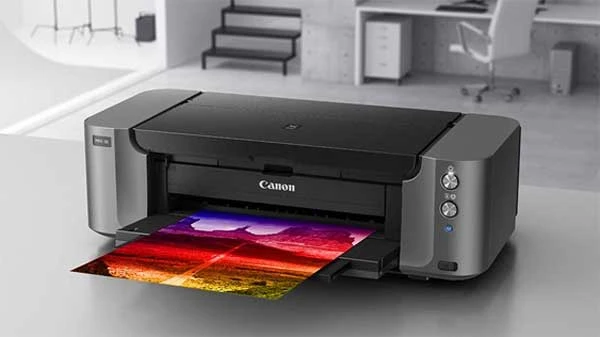 1. HP OfficeJet 3830 - Best All In One Printers Under $200
With the motto of Stay mobile and Save time, the HP OfficeJet 3830 is undoubtedly a fine choice for an all in one printer that is both superb in quality and affordable.
Being an all in one printer, this will help you with not just prints, but scan, copy, and faxes too. This makes it one of the finest choices, for you get so much done in a small package and a cheap price.
You can stay mobile thanks to the wireless technology that is featured on this and print from virtually anywhere you want. AirPrint is also featured for when you need to remotely connect with Apple products.
Mobile printing is made super easy due to the HP Smart App. With this, you can do pretty much every task from the palm of your hand. From printing photos directly from social media, to checking up on your ink usage, this lets you operate the printer using your phone.
Convenience is one of the top priorities of this device and you get many features to make it so. You have the auto document feeder which removes the need for you to feed papers manually.
It is time consuming, and frankly quite frustrating as well. Lastly, you get a touchscreen to make navigation easier when putting in commands to the printer

Highlighted Features
Has print speeds of 8.5ppm (black), 6ppm (color)
Comes with a 35-sheet auto document feeder
2.2-inch mono touchscreen for navigation
Input capacity is 60 sheets, output is 25 sheets
2. Canon Pixma MG3620 - Best Inkjet Printers Under $200
When wanting an Inkjet printer that is affordable, the Canon Pixma MG3620 proves to be a good choice. One of the features that make it attractive to us is the resolution.
It sports a high resolution of 4800x1200 dpi which is amazing for the price point. You get clear prints, text details are crisp, colors are vivid, gradients are visible and prints look life-like.
Resolution plays a big part in the final print quality, and one like this will surely give you photo prints you can cherish. On top of the resolution, the Canon ink lets you experience professional lab like prints that are smudge free.
Next comes the connectivity. The MG3620 is easy to connect to your Wi-Fi, has a built-in wireless to allow you to print from anywhere in the house, and lastly mobile printing too.
Mobile printing points to not just your phone, but AirPrint, Google Cloud Print, and tablet printing as well! Given this is a Canon printer, it comes with its Canon print app which lets you print, scan and put in commands using your phone, which makes using this a whole lot easier.

Highlighted Features
Comes with auto duplex printing
Has print speeds of 9.9 IPM (black), 5.7 IPM (color)
Features wireless and mobile printing
Has a high resolution of 4800x1200 dpi
3. Brother HL-L2350DW - Best Laser Printers Under $200
The Brother HL-L2350DW is the right choice for those who want a good laser printer that is affordable as well. Perfect for small settings like home offices, this printer is made to be productive.
We will start by talking about the speed of 32 ppm, which is very impressive. It lets you storm through piles of papers as you work, and is great for those tight deadlines.
There is also a manual feed slot, in case you want to put in papers of different sizes. Next, we have the auto duplex print. Now you can print both sides of a page at the same time.
This lets you complete your work in half the time, and saves half the amount of paper as well. Not to mention removes the need to manually flip pages as they go.
Some of the biggest expenses for printers include the toner and ink. First of all this printer has a toner save mode, which lets you save up on toner. Secondly, it also sports the Brother Genuine TN760 high-yield replacement toner, so you can print twice as much.

Highlighted Features
Comes with print speeds of up to 32-ppm
Has a 250-sheet paper tray
Manual feed slot is available
Can do auto-duplex printing
Comes with high yield toner
4. HP OfficeJet Pro 6978
Another fine choice from HP, the OfficeJet Pro 6978 is a good choice if you are on the market for a productive printer. Promising to give you Affordable color and Powerful productivity, it comes with a lot of lovable features that allows it to boost your work efficiency.
We will start by talking about its functions. It is an all in one printer, so you get to print, scan, copy and fax. Having everything in one device is very handy, not to mention saves money too.
To make it productive, it has an auto document feeder. You can simply place the papers and go on to do another job while this completes. No need to standby and feed in papers manually which can be very time consuming.
Then we have the duplex printing where both sides are printed simultaneously. It saves paper and cuts your print time by half! Connectivity options are also high as you get Ethernet networking, wireless connectivity, USB, and mobile printing too.
The HP Smart App makes mobile printing even easier, as now you can use your phone's camera to scan to mail, or print photos from Facebook directly, and even check up on your ink usage.
Last of all, you get an impressive 20ppm for monochrome and 11ppm for color prints, which are some of the finest in the market. This really makes it ideal for an office space where fast prints are essential.

Highlighted Features
Comes with auto duplex printing
Features a color touchscreen for easy navigation
Has optional high yield cartridges
Has print speeds of 20ppm (black), 11ppm (color)
5. Canon SELPHY CP1300
If you love printing pictures on the go, the Canon SELPHY CP1300 is the right choice for you. Being small and compact, you can carry this in your purse before heading out.
Suitable for parties where you capture lots of memories and can instantly print them out for all to see. It might be small in size, but it surely prints good quality pictures, for these last up to 100 years.
Prints are also waterproof, which is a much needed feature for parties where spills are a common occurrence. This also makes it ideal for kids who like crafts, since there is little chance of them damaging the prints.
Even though the printer is compact, it still comes with a 3.2 inch LCD screen so you can view your photos, and edit if required, before printing. You can connect it to your phone, or insert a memory card in order to print.
One concern people have with portability is power. This one comes with a battery, so you need not worry about it dying amidst your photo session.

Highlighted Features
Comes with a tilting 3.2-inch LCD for easy navigation
Output tray capacity is 18 sheets (postcard size)
Photos last up to 100 years
Prints are water resistant
Party Shuffle features allows multiple users
How to Choose The Best Photo Printers Under $200
Resolution
When buying the best photo printers under $200, one of the very first things you need to see is the print resolution. This is denoted with the dots per inch (dpi) in the product specification.
It shows the concentration of the colors being printed. Naturally the higher the resolution, the more depth and detailed colors you see. The very minimum you should settle for is a 600dpi.
This will give you a decent resolution where you can clearly see colors, gradients, and details in the work.
However, if you have more complicated or precise photos you want printed, try to opt for the highest resolution you can accommodate in your budget.
Speed
How much of a speed you want really depends on the kind of work you do. If you are doing this professionally we recommend you go for the highest speed you can get.
It will help you go through prints fast, letting you work on other projects. On the other hand, if you want this for personal use at home you can settle for an average speed.
Bottom line, your priority should change with the kind of work you do, and you should match your speed to resolution combination according to your work.
Paper size
Not all printers support all paper sizes. If you are printing photos on A4 papers, you can get away with most printers. But if you need to print on larger sizes for exhibitions, you will need a larger printer.
If you are a professional, we recommend you get a printer that supports multiple sizes and formats so you do not have to compromise with work.
However, if this is for your home or personal use, set a maximum size limit, and see what you can get in your budget.
Connection
Your printer is an accessory to your main work supplies. Therefore you have to see how compatible it is with your devices, and with how many different devices it can be connected.
Wireless connectivity today is a must have because we are working remotely today more than ever before. You should also look for Ethernet, mobile printing, and AirPrint if your devices are from Apple.
USB connection is also a must have, even if you use wireless as a backup for sorts for emergencies.
Frequently Asked Questions
1. What Is The Best Printer Under $200?
If you are printing images for a small or medium-sized business, getting a printer within this budget is a worthwhile option. Before you purchase one, you need to know whether you want a color laser or an inkjet printer.
If your answer is a color laser printer, you might have to sacrifice a bit on the image quality, but still, you will be getting more prints than you would with an inkjet printer.
While inkjet printers require investment in ink cartridges often, they yield vivid and detailed images suitable for any purpose.
As an all-in-one inkjet printer, Canon Pixma MG3620 offers you the best features you can ever find in a printer under $200.
2. What Is The Most Cost-Effective Printer?
This boils down to the cost of the printer, the cost of ink cartridges, and page yield.
For a printer to be termed as cost-effective, it needs to be affordable, yet with good performance, uses cheaper ink cartridges, and can print a higher number of pages before the ink runs out.
You might include its wireless connectivity options, like built-in WiFi and Bluetooth, as well, for they save your electricity bills.
Despite being a cost-effective printer,
Canon PIXMA TR4520
has plenty of features, including scanning and faxing for your convenience.
Final Word
While some might think you have to spend an arm and a leg for a good printer, this list proves otherwise.
As technology advances we see more and more features being packed into smaller prices- great news for those who need affordable devices.
You don't have to compromise on the quality or the price, and can get the best photo printer under $200. The products here are all equally great in their own ways, but have some differing features for differing needs.
We are confident you will be able to find one that meets your requirements if you take a quick look through the product list.
Related posts:
Buy on Etsy, Walmart, eBay (quality guaranteed)
Canon IP8720 Wireless Printer, AirPrint and Cloud Compatible, Black, 6.3" x 23.3" x 13.1" - Walmart, Etsy, Ebay
HP ENVY 5055 Wireless All-in-One Photo Printer, HP Instant Ink, Works with Alexa (M2U85A) - Walmart, Etsy, Ebay
Epson PictureMate PM-400 Wireless Compact Color Photo Printer - Walmart, Etsy, eBay
HP Sprocket Portable 2x3" Instant Photo Printer (Luna Pearl) Print Pictures on Zink - Walmart, Etsy, eBay
Canon® SELPHY™ CP1300 Wireless Compact Photo Printer - Walmart, Etsy, eBay
Epson WorkForce WF-7720 Wireless Wide-format Color Inkjet Printer with Copy, Scan, Fax, - Walmart, Etsy, Ebay
1. HP OfficeJet 3830 - Walmart, Etsy, eBay
2. Canon Pixma MG3620 - Walmart, Etsy, Ebay
4. HP OfficeJet Pro 6978 - Walmart, Etsy, eBay
5. Canon SELPHY CP1300 - Walmart, Etsy, eBay
6. Epson Workforce WF-2860 - Walmart, Etsy, eBay
7. HP LaserJet Pro M15w - Walmart, Etsy, Ebay
8. Canon Pixma iP110 - Walmart, Etsy, Ebay
9. HP Envy Photo 7155 - Walmart, Etsy, eBay
10. Canon PIXMA TR4520 - Walmart, Etsy, eBay