Programming is one of the toughest jobs in the world. And the long periods of straining ones neck and staring at a computer screen does not make the process any easier. If you are a programmer, then finding and investing in the right chair is crucial to your job and more importantly, your health.
We put importance on this because unlike office jobs where there is a combination of paper work and computer work, making you move your body a little, programming involves long hours of staring into a screen. What might seem normal in the beginning such as neck pain and back pain, can transform into something more serious over the long run.
This includes a change in posture, and even sciatica. Prevention is easy. Simply change your chair to one that suits your job. To find the best chair for programmers skim through our consolidated list to find one you might like.
Top Chair for Programmers 2022 by Editors' Picks
List of Top 10 Chairs For Programmers
1. Steelcase Leap Fabric Chair
2. Furmax Office Chair Desk Leather Gaming Chair
3. Ficmax Ergonomic Gaming Chair
4. Devoko Ergonomic Gaming Chair
5. Herman Miller Embody Chair: Fully Adj Arms
6. VERTAGEAR S-Line 2000 SL2000 Gaming Chair Racing Style
7. Hbada Ergonomic Office Chair - High-Back Desk Chair Racing Style with Lumbar Support
8. AmazonBasics High-Back Executive Swivel Office Desk Chair

9. Ergohuman High Back Swivel Chair with Headrest
10. Serta Executive Office Padded Arms Adjustable Ergonomic Gaming Desk Chair with Lumbar Support
Comparison Table For Top 10 Chairs for Programmers
Image
Name
Weight Capacity
Seat and Back
Specialty
Steelcase Leap Fabric Chair
N/A

Liveback mimics shape of the back

Comfortable reclining
Furmax Office Chair Desk Leather Gaming Chair
300 pounds

PU leather, with seat cushion

Constructed with strong metal frame
Easy to clean
Ficmax Ergonomic Gaming Chair
300 pounds

PU leather (dirt and fade resistant)

Tilts, rocks and swivels.
Devoko Ergonomic Gaming Chair
300 pounds

Breathable leather

Has lock-tilt adjustment
360 degree swivel
Herman Miller Embody Chair: Fully Adj Arms
N/A

Four different layers allows airflow

Backfit adjustment mimics human spine
VERTAGEAR S-Line 2000 SL2000 Gaming Chair Racing Style
240 pounds

Steel frame covered in ultra-premium high density resilient memory foam.

Adjustable tilt with locking
Adjustable armrests
Hbada Ergonomic Office Chair - High-Back Desk Chair Racing Style with Lumbar Support
225 pounds

Mesh back with foam padded seat

Has a headrest
Has a full reclining system
AmazonBasics High-Back Executive Swivel Office Desk Chair
275 pounds

Upholstered using bonded brown leather and PVC

Has 360-degree swivel
Comes with smooth-rolling casters
Ergohuman High Back Swivel Chair with Headrest
N/A

Mesh back and seat

Has seat depth adjustment
Serta Executive Office Padded Arms Adjustable Ergonomic Gaming Desk Chair with Lumbar Support
250 pounds

Leather upholstery with mesh accents

Has a pillow headrest
Waterfall edge seat
Top 5 Best Chair For Programmers Reviews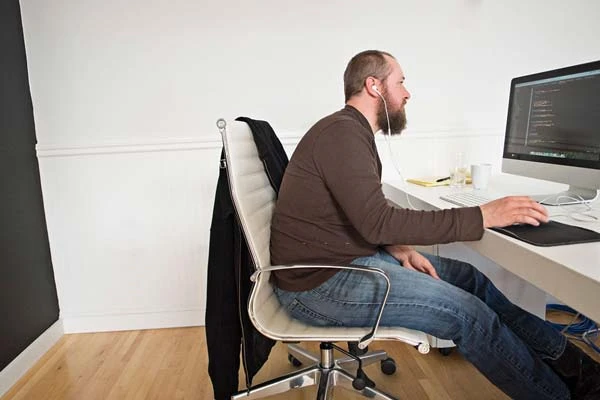 1. Steelcase Leap Fabric Chair- Best Office Chair for Programmers
How good a chair is depends a lot on how much it can adjust to your needs. This Steelcase Leap Fabric Chair will let you experience adjustability unlike any other.
Being highly ergonomic, this chair makes sure that when you sit, the chair adjusts itself according to your body. This prevents back pain in the long run as it holds your posture up right, even after long periods of sitting.
The chair features LiveBack technology. This makes sure that the back of the chair adjusts to your back, and does so throughout the day with your movements. With this you are comfortable, and do not have to worry about back pain either.
When it comes to the deisgn, you get a streamlined and stylish chair, with a contoured back to hug the natural contours of your body. The arms of the chair are also adjustable. They can move sideways with one side fixed in position. Or you can move the entire armrest to either side to fit your body.
Programmers stare at a computer screen for a long period of time. The Natural Glide System option on this chair lets you lean forward to see the computer screen, without changing your position.

Highlighted Features
Has pneumatic seat height adjustment
Comes with adjustable lumbar support
Has a variable back stop
Has 360 rotation
2. Furmax Office Chair Desk Leather Gaming Chair
If you want a chair that looks cool and makes you feel proud of being a programmer, take a look at this Gaming Chair. Not only does it look good, it packs just as good qualities.
Designed with a strong metal frame this chair ensures stabilityand sturdiness, while the thick padded seat and back make sure you are comfortable in your work.
As this is a gaming chair, it is made in a way that you can sit for hours and yet feel light. Programmers are not far behind from gamers when it comes to hours in a chair, so this serve you just as well.
Sitting in the same position for too long can make you feel lethargic and unproductive. With the reclining and rocking feature, you find there is not a boring second on this chair. Unconsciously rocking back and forth will help keep your creativity and make you feel flexible.
The solid base and smooth rolling casters made from nylon gives you a solid and sturdy chair. This is important, because without it the chair will fall with the slightest change in angle.

Highlighted Features
Maximum weight capacity is 300 pounds
Seat height and armrest are adjustable
Head rest pillow and lumbar cushion are removable
Has 360 degree rotation
3. Ficmax Ergonomic Gaming Chair
The Ficmax Ergonomic Gaming Chair is made catering to professional gamers who spend a lot of time sitting down. However, since programmers too require sitting down in front of a computer just the same, this will cater to you too!
Besides being comfortable, being flexible is also something you will want. It helps you keep your focus, and prevents your limbs from becoming stiff. With the tilt, rock and swivel feature on this chair, be assured you will have fun.
Take breaks between work and tilt to rest, swivel to reach things close to hand, and rock when you feel like it.
This chair is made from the best quality PU leather. It is dirt and fade resistant, so you can use this for long times without the color changing. PU leather also makes it easy to clean. On the insides you get 4.8-inch thick high-density memory foam. This adjusts to the shape of your body so you can achieve maximum comfort.

Highlighted Features
Has 180 degree full tilt
Footrest is retractable and fits below the chair
Metal framework ensures sturdiness
USB powered lumbar massage pillow included
4. Devoko Ergonomic Gaming Chair
Another gaming chair that comes with a very attractive outlook, but can be used just as much by programmers. The Devoko Ergonomic Gaming Chair gives off a racing style outlook with its colors and design.
Made from premium breathable leather, this chair sports a unique surface that is easy to maintain, all the while being breathable for comfort to the user. Mute rolling wheels are a good addition for anyone who likes to move on their chairs a lot. It also protects your floors from getting scratched.
Sitting for long hours can impact out neck and back. Which is why the lumbar support and headrest pillow together help to keep our posture at its peak, and prevent any sort of pain.
If you work at an office, you do not get much scope to lie down and rest. The lock tilt adjustment with the recline angle adjuster lets you rest in an almost lying down position so you can recharge yourself between work.

Highlighted Features
Has 360 degree swivel rotation
Maximum weight capacity is 300 pounds
Seat height is adjustable from 16.1 inch to 20 inch
The body is made of a metal frame
5. Herman Miller Embody Chair- Best Desk Chair for Programmers
At first sight the shape of this chair catches people off their guard. Outlook wise this does not scream comfort. However once you take a look at the details, you will find this to be one of the most ergonomic chairs in the market.
These help you to stimulate your blood and oxygen flow, letting you stay relaxed and focused at all times.
Sporting the 'A sprine like yours' tag, the back of this chair mimics your natural spinal shape, and follows it when you sit. This prevents any back problem that can result from sitting for too long. The narrow back is designed to allow you to twist and grab things that might be at your back.
The material is a skin-like textile that comes in layers allowing for air circulation. So even if spend a long time on this, you will remain cool.
The reclining feature lets you unwind between work and rest, but that is not all. Prolonged periods of sitting down can compress your spinal discs. The reclining feature prevents that, and hence slows the fluid loss from the discs as well.

Highlighted Features
Mimics the human back for comfort
Comes in a wide range of colors
Keeps your posture perfect and proper
Is 95% recyclable at the end of its life
How To Choose The Best Programmers Chair
Adjustability
The reason behind spending time finding the right chair, is so that we can adjust it to our needs. This makes adjustability one of the most important features. The best programmers chair will have a handful of adjustment features which will let you fix it to your comfort throughout the day.
The basics include proper reclining, ease with which you can raise or lower the seat, armrests which can be put in and out of place. These are the primary adjustments we all seek that makes sitting comfortable. If you find a chair with more features, all the better!
Seat Height
We all have different heights, hence sit different on different chairs. With a high range of seat height, you have control of how much you can raise or lower yourself.
This is specifically important for people who have to change desks frequently. Since not all desks come at the same height, changing your chairs height will make up for it.
Another reason this is important- your legs comfort. People tend to have legs of different lengths. You receive maximum comfort when your thighs stay parallel to the ground, with your feet resting flat. When you have the option of changing seat height, you can let your lets relax as well.
Material
Your chair is as good as the materials used to build it. Upholstery and the back play a big part in the comfort you seek from a chair.
When talking about materials, the kind you use depends on your preference. But what matters is that you choose the highest quality in its family. This will ensure your chair lasts a long time and can serve you for years to come.
Can you clean it? Is it spill resistant? Is it stain and heat resistant? How does it work under pressure? These are all the questions you should be asking. And preferably look for the answer Yes.
Base
Base stability determines how sturdy your chair is. If you tend to move around a little, will it break? Will it be able to hold your weight? Make sure to check the base and foundation of the chair so to know it will not break or tip over at a slight change in your posture.
If you like to glide across the floor, see that it does not lose control when doing so. Look for spokes in the base as it will help increase stability.
Programmer Chair Frequently Asked Questions
1. What Is The Best Chair For Programmers?
Programmers work non-stop while sitting in the same position for a long period of time. So, the best chair for a programmer should have a comfortable seat cushion, a sturdy backrest, lumbar support, and an ergonomic design.
A chair with a tilt mechanism will also provide utmost comfort and enhance the efficiency of the programmers. It will ensure that the programmers can relieve their stress by stretching and reclining even in the middle of the work.
2. What Is The Best Chair For Sitting All Day?
The best chair for sitting all day is the one that is ergonomically designed and comes with lumbar support. A lumbar support will provide comfort to your lower back and help maintain the lower spine's normal inward curvature. It will ensure that you don't suffer from back pain due to sitting all day in the same position.
3. Should I Get A Gaming Chair Or Office Chair?
If you are looking for a chair to sit all day long and work, then a gaming chair will be better for you. Both gaming chairs and office chairs are all about maintaining a healthy posture. However, gaming chairs are made with superior quality cushions and mostly offer memory foam to offer the utmost comfort for a long time.
Final Word for Programmer Chair Buyers

When it comes to jobs like programming, you need a dedicated chair to get you through the day. We know it can be hard to find one in this saturated market with hundreds of designs and variations.
But fret not, for we have got you covered. From details, to highlights to comparisons, the article covers all you need to find the best chairs for programmers . Take a quick look and be on your way to find your next work partner to comfort your through the day.
Programmer Chair Related posts:
Buy now at Walmart, eBay, Etsy (subject to availability)
Herman Miller Embody Ergonomic Office Chair | Fully Adjustable Arms and Carpet Casters | - Walmart, Etsy, eBay
Amazon Basics Executive Home Office Desk Chair with Padded Armrests, - Walmart, Etsy, eBay
Steelcase Gesture Office Chair - Cogent: Connect Graphite Fabric, Low Seat Height, Shell - Walmart, Etsy, eBay
Hbada Ergonomic Home Office Chair - High-Back Desk Chair Racing Style with Lumbar Support - Walmart, Etsy, Ebay
Ergohuman High Back Swivel Chair with Headrest, Black Mesh & Chrome Base - Walmart, Etsy, eBay
SPACE Seating Professional AirGrid Dark Back and Padded Black Eco Leather Seat, 2-to-1 - Walmart, Etsy, eBay
1. Steelcase Leap Fabric Chair - Walmart, Etsy, eBay
2. Furmax Office Chair Desk Leather Gaming Chair - Walmart, Etsy, eBay
3. Ficmax Ergonomic Gaming Chair - Walmart, Etsy, Ebay
4. Devoko Ergonomic Gaming Chair - Walmart, Etsy, eBay
5. Herman Miller Embody Chair: Fully Adj Arms - Walmart, Etsy, eBay
6. VERTAGEAR S-Line 2000 SL2000 Gaming Chair Racing Style - Walmart, Etsy, Ebay
7. Hbada Ergonomic Office Chair - High-Back Desk Chair Racing Style with Lumbar Support - Walmart, Etsy, eBay
8. AmazonBasics High-Back Executive Swivel Office Desk Chair - Walmart, Etsy, Ebay
9. Ergohuman High Back Swivel Chair with Headrest - Walmart, Etsy, eBay
10. Serta Executive Office Padded Arms Adjustable Ergonomic Gaming Desk Chair with Lumbar Support - Walmart, Etsy, Ebay