Whether or not you are an avid fan of Apple's products or not, there is no denying that MacBooks are one of the finest out there when it comes to editing.
They are powerful and portable and pack a heap of features you require for such work. Being slim and lightweight in most cases, they are easy to work with for outdoor shoots and feature extraordinary battery lives as well. But which one is the right one for you?
While they are all special, they all have different features which attract different customers. If you want portability, someone else might want power.
So if you want to buy the best MacBook for photo editing, take a look at our collection here. You will find the distinguishing features you need, along with comparisons and more to make your decision easier.
Editors' Picks for Top Macbook for Photo Editing 2022
List of Top 10 MacBooks For Photo Editing
7. Apple 15.4in MacBook Pro Laptop
Comparison Chart for Top 10 MacBooks For Photo Editing
Image
Name
Resolution
RAM (GB)
Processor
Specialty Features
Apple MacBook Pro
2560x1600
8

2.4GHz quad-core Intel Core i5

13.3-inch screen
Apple T2 security chip
New Apple MacBook Air
2560x1600
8

1.1GHz dual-core Intel Core i3

13.3-inch screen
2TB SSD storage
New Apple MacBook Pro
3072x1920
8

2.3GHz 8-core Intel Core i9

16-inch screen
8TB SSD storage
Apple MacBook Air
2560x1600
8

1.6GHz dual-core Intel Core i5

13.3-inch screen
Apple MacBook Pro
2880x1800
8

2.6GHz 6-core Intel Core i7

15.4-inch screen
Apple 13" MacBook Air
1440x900
8

1.8 GHz dual-core Intel Core i5

Intel HD Graphics 6000
Apple 15.4in MacBook Pro Laptop
2880x1800
16

2.6GHz 6-core 8th-generation Intel Core i7 processor

512 GB SSD
Apple 13in MacBook Air
1440 x 900
8

2.2 GHz Intel Core i7

512GB SSD
Apple MacBook Pro 15inch
2880x1800
16

2.8 GHz Core i7 4980HQ

1600 MHz Memory speed
Apple 15in MacBook Pro
2880x1800
16

2.9GHz quad-Core Intel Core i7

2133 MHz Memory speed
Best macbook for photo editing reviews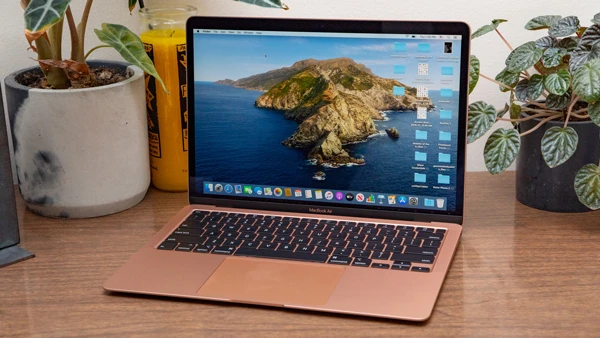 1. Apple MacBook Pro
This is the 13-inch version of the Apple MacBook Pro and it promises to pack more power and more performance. It truly packs a bunch of features for photographers.
The first being small and lightweight which makes this easily portable. Next you have the 10 hours of battery life enabling you to work outdoors for long.
Performance wise this is just as good, as you get the 8th-Generation quad-core Intel Core i5. With this you can speed through all your work, be it photo editing or not.
On top of this the touch bar makes work more efficient and lets you do more in less time. For graphics tasks, you get the 128 MB of embedded DRAM that lets you accelerate graphics tasks.
This was you can spend more time working on your creativity instead of waiting for your laptop to work. Lastly the Apple T2 security chip comes with a secure
Enclave coprocessor that ensures your security and allows Siri to do small tasks like opening up applications.
Storage is a big requirement, and the MacBook Pro packs a 2TB SSD storage that lets you store numerous files and applications, all the while working smoothly.

Highlighted Features
Comes with Retina display
Has a battery life of 10 hours
Features a Touch Bar and Touch ID
The Processor is 8th-Generation quad-core Intel Core i5
Comes with four Thunderbolt 3 (USB-C) ports

2. New Apple MacBook Air- Best Mac for Photographers
The New Apple MacBook Air is one of the lightest and slimmest laptops out there. So if portability is your priority, this is a must check out. First of all we must speak about the Retina Display.
This packs a whopping four million pixels to provide you with an optimal visual experience. The True Tone technology and razor-sharp clarity ensure that you see colors the resemble reality and the clearest texts in your documents.
Coming to the performance, this New Apple MacBook Air has a Tenth-generation Intel Core i3 processor packed with double the CPU performance. This is essential when editing photos as you do not want any lags or disturbance.
Thanks to these alongside the fast graphics performance, you can go on with work smoothly experiencing no distractions whatsoever. Just like all of Apple's products, this too is just as well thought out.
Once you use this keyboard, you will not want to go back to another. The redesigned scissor mechanism with 1mm travel ensures you get swift results as you type.
You do not have to go over them, or tap super hard. They are also 20 percent larger in size, making it easier to type faster and more accurately.

Highlighted Features
Retina Display and True Tone Technology integrated
Comes with wide stereo sound speakers
Features a Backlit Magic Keyboard and Touch ID
The Processor is Tenth-generation Intel Core i3
3. New Apple MacBook Pro- Best MacBook Pro For Photo Editing
If you want a MacBook that has the brightest display, this is the one you are looking for.
As one of the most powerful notebooks Apple has ever made, you will surely come to love every single feature on this, whether you are a photo editor or not.
Starting with the display, you get a wide 16-inch Retina display that delivers the truest of colors. The 500 nits of brightness ensure you see the brightest whites, the deepest blacks, and the most vivid color outcomes altogether.
If you are a photo editor, you will absolutely love the visuals on this as it will let you work smoothly and give great results. Another feature you look to for editing is the processor.
Since you have to use multiple applications, a strong processor is required. Here you get a Ninth-generation 8-Core Intel Core i9 which is one of the strongest in the market, so it literally does not get any better than this.
Besides photo editing, you can layer tracks, render 3D models, test codes and much more at one go.

Highlighted Features
The Processor is 8-Core Intel Core i9 ninth-generation
Comes with a six-speaker system and force canceling woofers
Features a Touch ID and Touch Bar
Graphics card AMD Radeon Pro 5500M


4. Apple MacBook Air- Best Mac Laptop For Photo Editing
Coming with the tagline Lightness Strikes Again, this MacBook Air is another one of those lightweight and portable MacBooks that we love for travelling or working on the go.
Design wise, this is quite a looker thanks to its colors of space gray, gold and silver. With a sophisticated outlook, this well-built device will cater well to your photo editing needs as well.
You have the brilliant Retina Display and True Tone Technology enabling you to see colors like never before. Once you enjoy this visual technology, it is hard to go back working on another laptop.
Just right for photo editors as now you can see every minute detail of your work and easily edit them out! A do-it-all notebook, this has an 8th-Generation Intel Core i5 Processor which helps you go through your work at lightning speed.
You can have multiple tabs open, store a heap of photos and multi-task all you want. You still will not face lags or slowdown thanks to the powerful processor.
Besides a good MacBook, if you also want a green MacBook, this should be your choice.
The iconic wedge on this Mac is made from 100 percent recycled aluminum. So you are not just using a great Mac, but you are saving the planet too!

Highlighted Features
The Processor is Dual-core 8th-Generation Intel Core i5
Comes with wide stereo sound speakers
Has two Thunderbolt 3 (USB-C) ports


5. Apple MacBook Pro- Best Mac for Photoshop
This is the 15-inch version of the previous MacBook Pro, but being bigger in screen size is not the only difference.
This too comes with the Retina Display and Touch Bar, but has a processor of 8-Core Intel Core i9 and a turbo boost of 5GHz. These make this one of the strongest MacBooks out there and is very well suited for photo editing.
Features like these make working with multiple applications and software easy, without facing lags. To achieve optimum performance this model comes with Radeon pro Discrete GPU which gives you real-time performance.
This means no matter how complicated your work is, it can be done in an instant. Take 3D models for example- a pretty tough task, but on this MacBook, it can be done swiftly.
Storage on this is truly exceptional as you get up to 4 TB of SSD storage, 3.2 GB/second sequential read speed and up to 2.2 GB/second sequential write speed.

Highlighted Features
The Processor is 9th-generation 8-Core Intel Core i9
Features Radeon Pro 560x Graphics
Comes with four Thunderbolt 3 (USB-C) ports
Features Intel UHD Graphics 630
Comes with Retina Display and True Tone Technology


How To Choose The Right Macbook For Photo Editing
Processor
When looking for the best Mac computer for photo editing, you will have to consider a number of features, and the processor is one of them.
Although the processor is prominent in all, newer models with recent Intel processors are better for your line of work. Ideally the minimum you should get is a quad-core, and if possible higher.
The more quad-cores you have, the more multitasking you can do smoothly-something photographers or photo editors tend to do a lot.
Storage
Storage is important everywhere, but even more so here. Because unlike windows, you cannot replace your hard drive on a MacBook.
As a photographer, know that you will have tons of photos stored in your laptop, you will have duplicates, raw photos and edited versions. All of this will take up a ton of space.
Buying a MacBook is an investment, and you want to get the most out of it, so opt for the highest storage you can accommodate. Your starting point of consideration should be around 500GB at the least.
RAM
When you are using multiple editing software, your laptop tends to run slow, or become slow over time. You do not want that now do you? This is why a good RAM is required.
The more you have, the smoother and faster your Mac will run, your applications will pop quicker and your commands will work sooner. It simply enhances your work experience.
You should not settle for a RAM below 8GB, this is the minimum. Of course we suggest you opt for a higher one if you can.
Graphics Card
As a photographer we expect you will be working with a lot of high-resolution photos.
For cases like this we recommend you go for a MacBook that has a discrete graphics card. The MacBook Pro for example is a good choice.
This will give you a better performance than most when working with such photos, and will enhance your editing experience as well.
Screen Size
The screen size really depends on person to person. However if you are buying this with the intention of photo editing, you should go for a larger screen.
It will let you work more comfortably and give you a bigger space to work on at a time. Modern Macs come with their state of the art 'Retina' display letting photos look their absolute finest.
Final Word
We are all familiar with Apple's product quality, and how they are well loved in the market. However the confusion lies in which one to buy. Although they are all great in their own ways, they have a few places where they differ.
This is where we come in. our elaborate list of product details, highlights and comparisons work to show you where these differences lie, and which one can be of use to you.
So if you are looking to buy the best Mac for photo editing, a quick look here can help you out.
Related posts:
Buy them at Etsy, Walmart, eBay (quality guaranteed)
2021 Apple MacBook Pro (16-inch, Apple M1 Pro chip with 10‑core CPU and 16‑core GPU, 16GB - Walmart, Etsy, eBay
2021 Apple MacBook Pro (14-inch, Apple M1 Pro chip with 8‑core CPU and 14‑core GPU, 16GB - Walmart, Etsy, eBay
2020 Apple MacBook Air Laptop: Apple M1 Chip, 13" Retina Display, 8GB RAM, 256GB SSD - Walmart, Etsy, eBay
2020 Apple MacBook Pro with Apple M1 Chip (13-inch, 8GB RAM, 256GB SSD Storage) - Silver - Walmart, Etsy, eBay
Apple MacBook Pro (15-Inch, Latest Model, 16GB RAM, 256GB Storage) - Space Gray - Walmart, Etsy, Ebay
Apple 13" MacBook Pro with Touch Bar, 2.8GHz Quad-Core Intel Core i7, 16GB RAM, 512GB - Walmart, Etsy, Ebay
Apple MacBook Pro (13-Inch, 8GB RAM, 256GB Storage) - Space Gray (Previous Model) - Walmart, Etsy, eBay
1. Apple MacBook Pro - Walmart, Etsy, eBay
2. New Apple MacBook Air - Walmart, Etsy, Ebay
3. New Apple MacBook Pro - Walmart, Etsy, Ebay
4. Apple MacBook Air - Walmart, Etsy, Ebay
5. Apple MacBook Pro - Walmart, Etsy, eBay
6. Apple 13" MacBook Air - Walmart, Etsy, eBay
7. Apple 15.4in MacBook Pro Laptop - Walmart, Etsy, eBay
8. Apple 13in MacBook Air - Walmart, Etsy, eBay
9. Apple MacBook Pro 15inch - Walmart, Etsy, eBay
10. Apple 15in MacBook Pro - Walmart, Etsy, eBay