Printing on transparencies are becoming more popular by the day. Given the fast technology and so many machines we have access to, it has become easier as well.
Transparencies have many uses today. You can use them as an overhead projector instead of a PowerPoint. Or you could make screens to print on T-shirts as well. There is a lot you could do, only if you put your mind to it.
But, this is definitely different from regular printing. For this, you require screen printing, which needs screen printers. To buy the best printer for screen printing take a look at our list here.
From product details to some of the top brands, and even comparisons, we have provided all here. We know it can be hard finding the right product amongst so many in the market. Which is why these are here to make your buying decision easier and simpler.
Top Printer for Screen Printing 2022 by Editors
List of Top 10 Printers For Screen Printing
8. Epson Expression Photo HD XP-15000
9. 2PX9507 - HP Designjet T120
Comparison Chart For Top 10 Printers For Screen Printing
Image
Product
Print resolution(dpi)

Dimension (inch)
Specialty Feature
Canon Pixma Pro-100
Up to 4800

15.2 x 27.2 x 8.5

Hi speed USB
Epson Expression ET-2750
5760 x 1440

22.3 x 14.8 x 10.2

Eco friendly
Canon Pixma iX6820
9600 x 2400

23 x 12.3 x 6.3

Air Print
Google Cloud Print
Epson WorkForce WF-7710
4800 x 2400

32.2 x 22.3 x 13.4

250 sheet tray

HP OfficeJet Pro 7740
4800 x 1200

23.0 x 18.38 x 15.10

22 ppm black, 18 ppm color
Epson Artisan 1430
5760 x 1440

27.8 x 17.3 x 12.5

13 inch Prints
Canon PIXMA Pro9000
4800x2400

13.9 x 26 x 7.6

8 color ink system
Epson Expression Photo HD XP-15000
5760 x 1440

30.9 x 18.7 x 16.2

200 sheet front tray
2PX9507 - HP Designjet T120
1200 x 1200

45.1 x 16 x 24

Virtual printing
Epson Stylus C88+
5760 x 1440

18.1 x 9.5 x 7.6

120-sheet input tray
Top 5 Best Printers For Screen Printing Reviews
1. Canon Pixma Pro-100 - Best Printer For Screen Printing Transparencies
You think printers, you think the name Canon. They sort of come simultaneously. Similarly, the Pixma Pro-100 from Canon is a great choice when looking for a printer for transparencies.
Created to print out pictures that resemble reality, this printer packs a lot of features you will appreciate. First of all, you get true monochrome prints. This is to say that even your black and white prints will have life, thanks to the 3 monochrome inks provided in the system.
It has black, gray and light gray to create deep and enhanced results. The Optimum Image Generating or (OIG) system is truly a unique feature you get here.
This technology lets the printer calculate results for each print by judging the paper type and print mode to be used. It also checks other factors such as tonal graduations, low graininess, color reproduction, uniform glossiness and black density.
With the technological experience Canon has, it uses it all to recreate the perfect print that does not lack in any way or form. The printer also sports two-way paper feeding.
It comes with a rear tray and a dedicated manual feed at the back. You also get computer free printing, where you can print your desired documents or photos directly from a digital camera.
The AirPrint on the other hand lets you print these from your iPhone or MacBook without using any driver.

Highlighted Features
Comes with 8 dye based inks
Features 4800 x 2400 dots per inch
Has a high capacity auto sheet feeder
Wireless connectivity makes it portable
2. Epson Expression ET-2750 - Best Printer For Screen Printing Film
If you are looking for a printer that does little damage to the planet, this Expression ET-2750 from Epson should be on your radar. One of the finest qualities of this printer include the EcoTank.
These tank are bigger is size, so you do not need to buy cartridges over and over again. Users love how they do not have to change their cartridges as much- and we all know how expensive that can be!
So besides saving the planet, you also save cash, thanks to this advanced technology by Epson. The 1.44 inch color display helps you with your navigation. This also makes it easy to use, even if you are not tech-savvy.
The replacement ink bottles are the star of the show, as they carry enough to print a lot. By a lot we mean-6500 pages in black and white, and 5200 in color. Now that is a lot of pages!
Nowadays a lot of us like to print directly from our phones or tablets. It simply makes the task easier and faster, whereas connecting and transferring takes a good while.
Well, you get mobile printing on this device as well, making it all the more better. Lastly, this printer does not only let you print, but also has scanning and copying features you can use for your daily work.

Highlighted Features
Has a 100 sheet paper capacity
Comes with voice activated printing
Features EcoTank for sustainable ink use
Supports mobile printing as well
3. Canon Pixma iX6820 - Best Inkjet Printer For Screen Printing
Another great find from Canon, the Pixma iX6820 is a suitable printer for your office. Being wireless this is easy to move around from place to place. But it can also print a lot of different sizes, ranging from 4x6 inch mailers to as big as 13x19 inch charts.
The pure versatility makes this just right for a professional setting. Next, coming to the exceptional optical resolution of 9600x2400 dots per inch. This lets you experience truly extraordinary outcomes.
The prints are sharp, they do not have noise, and there is no color distortion whatsoever, and most importantly, they are life like. The five individual ink tanks also make sure that you practically never run out of ink.
Since the tanks are individual, you can only refill the one that needs refilling, instead of having to change the whole thing. This also means less in replacements, saving you time and money.
While printing, you sometimes need templates. And if this for an office, you need a lot of these. Manually creating each with every print can be very tiring. That is where the downloadable Solution Templates come in.
Download them, and use them at your convenience, without spending long minutes creating new ones. Lastly the My Image Garden software lets you organize your printing software in one place, as well as your photos.

Highlighted Features
Has a whopping resolution of 9600 x 2400 dpi
AirPrint and Google Cloud Print enabled
Comes with borderless photo printing
4. Epson WorkForce WF-7710 - Best Printer For Screen Printing Positive
The Epson WorkForce WF-7710 is powered by PrecisionCore and is an all-in-one printer for your everyday printing needs. You might have seen a difference in prints at home, and professional shops, but you won't with this one.
Making sure to give the top most quality prints, thanks to its high optical resolution of 4800 x 2400 dpi, you only get real life like prints. Besides, it also features borderless printing which brings your photos to life.
If you want a printer that is economical, this is a must check out. For it uses up to 80 percent lower power than most other color laser printers on the market. Next we have the versatile paper handling.
This has got to be one of the annoying parts of printing, but thanks to the features on this device, it's not anymore. First of all there is the 250 sheet tray along with a rear feed for your specialty paper.
Then you also get a 125 sheet output tray. Together these help to speed up your work, while you can relax. Two sided print is a much needed feature in printers today, especially when you have a lot of papers to go through.
Thankfully, you get this feature, but not only for printing, but for scanning and copying as well. This makes it super-efficient and saves a lot of your time.

Highlighted Features
Uses less power making it economical
Can do up to 13x19 inch borderless prints
Comes with a 250 sheet tray
5. HP OfficeJet Pro 7740 - Best Printer For Silk Screen Transparencies
First of all, this printer form HP, the OfficeJet Pro 7740 is more than your average printer. It is an all-in-one that comes with a scanner and copier built in. It enables you to do more with less, saves time, space as well as money.
Enabling AirPrint, this lets you print our documents and pictures straight from your Apple devices. You do not have to connect them. You also get Mobile printing, enabled trough the HP ePrint app.
You can use your Google Cloud print to send commands to the printer without being around it at all times. The color touchscreen on top makes operating this a breeze and is a lifesaver for those who are not tech savvy.
Two sided duplex printing means you do not have to manually flip sides to print, but can do it in one go. This saves your paper as well as time. Simply put in the command, and do other work while this completes on its own.

Highlighted Features
Features two sided print, copy and scan
Comes with an auto document feeder
Will support wide format printing
Print speed of 22 ppm black and 18 ppm color
How To Choose The Right Screen Printing Printer
The Type
The very first thing to note before finding the best screen printing printer is to know what type you need. There are two types-manual and automatic. Automatic is suitable for those who want this for their business or work purpose at offices.
An automatic printer will mean you can leave the printer to its work and focus elsewhere. This is great for work since you don't waste time feeding papers in. But these are also more expensive given the extra benefits you receive.
A manual one on the other hand is well suited if you aim to use this at home. Or you know that there won't be too many papers to feed in. Hence, this also comes cheaper. When using it for the home, this is quite alright.
Range of Color
You do not want to buy a printer, only to find out later that it does not have a wide color range. Things like these need to be looked at early. First thing to note here- what will you be printing mostly?
Suppose you buy this for work, and know that black and white or gray scale is what you want. In this case, a small color range will be just fine.However if you will be using more color, of course a higher color range is required.
This will simply make your final results look much better. If you budget can accommodate it, opt for a high color range either ways. This serves as a backup for if you ever want more color.
Space
If you are using this at an office, you will probably get a dedicated space for it. However if you aim to keep this printer at your home, or home office, look at the dimensions to see how much space it will take up.
Simultaneously check to see how much space you have available on your desk, or if you will be needing a separate stand to place this.
Screen Printing Printer Frequently Asked Questions
1. What Printer Do You Need For Screen Printing?
Both inkjet and laser printers are capable of adding graphics to a transparency paper. But, one drawback of using a laser printer is that it won't deliver a fully opaque print. So, it's best to limit your search to inkjet printers.
If you are searching for an inkjet printer for your screen-printing business, you need to ensure the printer you choose lives up to your expectations.
The ideal printer should support an array of transparency sizes, deliver the best image quality, print at a faster speed, and give you flexibility with its wireless connectivity options.
Such printers can be hard to find, so here's one that will do the job flawlessly- the Canon Pixma iX6820 wireless printer.
2. Can You Use Any Printer For Screen Printing?
While inkjet printers are great for screen-printing, you need to note that not all models are suitable for the work because of how they are manufactured.
Some models don't support transparencies, while others support transparencies but not the size you want to print on. Also, some support transparencies but deliver subpar image quality. These are the kind of issues you will be facing if you choose just any printer.
That being said, here is one of the best printers you can go for- the Epson Expression Photo HD XP-15000.
Final Word for Screen Printing Printer Buyers
When buying screen printers, a lot of times you can have the flexibility of choosing a model that suits your home, or your office, or in some cases-both. But which one you ultimately go for depends on more than just the place.
You have to look at features and prices and much more. Our list of the best printers for screen printing cover a lot of different criteria.
This article covers a lot of ground, so everyone can find the right one for their own needs. Take a moment to look through the different models. We are sure you will find one suitable for your work over here.
Screen Printing Printer Related posts: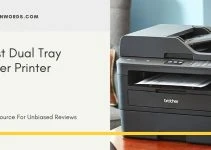 Buy on Walmart, eBay, Etsy (quality guaranteed)
HP OfficeJet Pro 9015 All-in-One Wireless Printer, with Smart Home Office Productivity, - Walmart, Etsy, eBay
Brother Inkjet Printer, MFC-J985DW, Duplex Printing, Wireless Connectivity, - Walmart, Etsy, eBay
HP Designjet t120 24" ePrinter - Walmart, Etsy, Ebay
Epson Artisan 1430 Wireless Color Wide-Format Inkjet Printer (C11CB53201) - Walmart, Etsy, eBay
HP ENVY Photo 6222 Wireless All-in-One Printer with Craft it! Bundle - Craft software, - Walmart, Etsy, eBay
Epson SureColor P400 Wireless Color Photo Printer, 20.9 x 25.8 x 13.5 Inches, Black, - Walmart, Etsy, eBay
Canon PIXMA TR4520 Wireless All in One Photo Printer with Mobile Printing, Black, Works - Walmart, Etsy, Ebay
Epson EcoTank ET-2750 Wireless Color All-in-One Cartridge-Free Supertank Printer with - Walmart, Etsy, eBay
Epson Stylus C88+ Inkjet Printer Color 5760 x 1440 dpi Print Plain Paper Print Desktop - Walmart, Etsy, eBay
Canon TS9521C All-In-One Wireless Crafting Photo Printer, 12X12 Printing, White, Amazon - Walmart, Etsy, eBay
Canon TS8320 All In One Wireless Color Printer For Home | Copier | Scanner | Inkjet - Walmart, Etsy, Ebay
Epson Expression Photo HD XP-15000 Wireless Color Wide-Format Printer, Amazon Dash - Walmart, Etsy, eBay
Canon Pixma Pro-100 Wireless Color Professional Inkjet Printer with Airprint and Mobile - Walmart, Etsy, eBay
1. Canon Pixma Pro-100 - Walmart, Etsy, eBay
2. Epson Expression ET-2750 - Walmart, Etsy, Ebay
3. Canon Pixma iX6820 - Walmart, Etsy, Ebay
4. Epson WorkForce WF-7710 - Walmart, Etsy, eBay
5. HP OfficeJet Pro 7740 - Walmart, Etsy, Ebay
6. Epson Artisan 1430 - Walmart, Etsy, eBay
7. Canon PIXMA Pro9000 - Walmart, Etsy, eBay
8. Epson Expression Photo HD XP-15000 - Walmart, Etsy, Ebay
9. 2PX9507 - HP Designjet T120 - Walmart, Etsy, eBay
10. Epson Stylus C88+ - Walmart, Etsy, eBay
Epson Expression Photo HD XP-15000 - Walmart, Etsy, eBay