You have planned to start your own 3D printing business, so you ordered an excellent 3D printer online.
The printer arrived in pristine condition, and you are excited to try it out. So, you set it up on your workbench, selected an object for a test, and initiated the printing process.
As expected, it came out really well!
Because the model is moderate in size, you wanted to attach it to a base and then showcase it on your floating shelf.
The first thing popped into your head is super glue because you believe it works on any surface, including plastic. You used super glue to attach the model to the base only to find out that it came off a few minutes later.
So, how effective is that super glue to plastic?
The answer is, you need an adhesive that is specifically designed for plastic and to help you out in choosing the best glue for PLA, then check out our recommendations.
Top Glue for PLA2021 by Editors' Picks
Comparison Chart for Top 7 Glues For PLA
| Image | Name | Glue Capacity | Suitable Filaments/Surfaces | Special Feature |
| --- | --- | --- | --- | --- |
| | Magigoo MO2016 | 50ml | ABS, PLA, PETG, HIPS, and TPU | Easy application and release |
| | Glue Masters Professional Grade Cyanoacrylate | 2oz | Wood, plastic, glass, metal, and ceramic | Small amount for instant fix |
| | Super Glue 15187 | 2g per tube | Wood, ceramic, metal, rubber, and plastic | Paintable and sandable |
| | D-FLIFE 3pcs 3D Printer Glue Sticks | 21g per stick | PLA, ABS, PET, and PETG | Washable |
| | Bed Weld Original 3D Printer Adhesive Glue | 118ml | PLA, ABS, PETG, and CPE | Single coating for several prints |
| | SCIGRIP 10315 | 44ml | Thermoplastics, CAB, Plastic, PETG, Polystyrene, and Polycarbonate | Works on porous surfaces |
| | Loctite Ultra Gel Control Super Glue | 4ml | Wood, paper, ceramic, leather, plastic, metal, rubber | Resists impact, shock, vibration, and temperature extremes |
Best Glues For PLA Reviews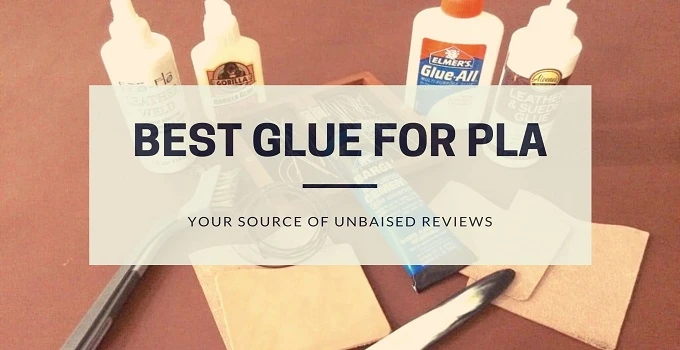 1. Magigoo MO2016 | Best Glue For 3D Printing
If you are looking for an all-in-one glue that magically works on any surface, then try out Magigoo!
You can use this glue stick on 3D printing surfaces, such as glass, PEI, Buildtak, and Kapton. When it comes to filaments, you can use this not only in PLA but also in ABS, PETG, HIPS, and TPU. So, when you think of changing your printing elements, there's no need to change your glue!
Often when you are printing your desired 3D model, you will notice that the first layer gets warped due to a lack of proper adhesion. To eliminate this issue, simply shake, press, and then apply the glue to the active printing area. It ensures not only strong bonding in the hot plate but also easy removal when it cools down.
Of course, you wouldn't want to have failed prints. It will be a big waste of both your time and the materials. With this glue stick, you will be able to create over a hundred 3D printed objects without any adhesive issue.
If you are wondering whether your 3D printed object will smell of the glue, you can relax because it is odorless! It is also non-flammable, so you can use it in a closed room. Even if it accidentally touches your skin, then you can easily rinse with water.
Highlighted Features
Works with PLA, ABS, PETG, HIPS, and TPU filaments
It is odorless and non-toxic
Can be used in glass, PEI, Buildtak, and Kapton
Easily releases the 3D print
Prevents 3D print warping

2. Glue Masters Professional Grade Cyanoacrylate | Best Glue For 3D Printed PLA
If you need to attach PLA pieces, then the Professional Grade Cyanoacrylate by Glue Masters will seamlessly do the trick!
When you apply a small amount of glue to a particular area, it takes less than 45 seconds to dry up completely. This is useful if you are looking for a quick fix for your 3D printing project.
You might think that like most glues that come in a tube, this one will also cause a mess when dispensing from the tube. However, it won't! Since the glue is a cyanoacrylate resin of medium viscosity, it offers more control and a nice flow, thus preventing your work area from a mess.
You will love using this glue because it gives you versatility. Besides joining those parts of your 3D printed boat, you can also use it for other purposes, like repairing wood, fixing shoe soles, and many more! This glue is simply a great addition to your toolbox.
Other than that, you can use it for a long time because the nozzle does not clog, and only a small amount is needed to let the magic happen. So, you will have no trouble using it for big or small projects.
When using this glue, be sure to wear eye protection and work in a well-ventilated area.
Highlighted Features
Dries up in less than 45 seconds
Can be used in wood, plastic, glass, metal, and ceramic
It is of medium viscosity
Can be used for big and small projects

3. Super Glue 15187
Do you need to use super glue frequently? Then, instead of searching for glue in multiple quantities, you can check out this clear pack of twelve Super Glue.
This super glue will not only help you attach those 3D-printed parts but also will help you out in other tasks. You can use this glue to set stones in your jewelry projects, apply fake fingernails, fix broken china, and so on. Essentially, you will be able to apply this glue on plastic, wood, ceramic, rubber, and metal surfaces.
If you need to finish your project as early as possible, you don't have to worry because the glue bonds instantly and sets in 10-30 seconds. Even after applying the glue, you can paint or sand the area for a flawless finish.
Since each glue comes with an applicator tip, you can easily apply it without worrying about runs and drips. Also, the compact box that the glues come in is useful for keeping the glues together, so you don't have to look for them elsewhere whenever you need them.
Highlighted Features
Comes with a precision applicator
The box includes 12 units
Can be used on plastic, wood, ceramic, rubber, and metal
Sets in 10-30 seconds
Can be painted or sanded

4. D-FLIFE 3pcs 3D Printer Glue Sticks
There's no doubt with the fact that glue sticks are an excellent choice when it comes to securing the first layer of your 3D printed model to the printer bed. But, when you are handling multiple 3D printing projects, you will find that you need more than just one.
The D-Flife 3D Printer Glue Sticks come in 3 pieces to eliminate the hassle of buying glues separately. The glue works smoothly on any hot printer bed, whether it is a sheet plate, aluminum bed, or glass plate.
Most beginner 3D printers find that their printing object warps during the creation of the first layer, and this glue helps in solving the issue. It enables the 3D print to stay in place so that the printing process ends with perfection.
When you're done printing, you can easily remove the printed object and wipe the build plate with water to remove the glue. Also, if the glue comes in contact with your skin, you can rinse the area with water. It won't cause harm as it is non-toxic.
While these glue sticks give you strong adhesion, they also allow you to create over a hundred prints.
Highlighted Features
Comes in three units
Can be used on sheet plate, aluminum bed, or glass plate
Works with PLA, ABS, PET, and PETG filaments
Prevents 3D print warping
It is non-toxic

5. Bed Weld Original 3D Printer Adhesive Glue
This Bed Weld adhesive glue is another great adhesive you can use to attach 3D printed parts.
You will no longer experience PLA welding issue by applying this glue to the build surface. When the surface becomes hot, then the glue will strongly hold your PLA model, and when it cools down, it will easily release it. Even if you find that a part remains attached, then you can use the edge of a razor to lift the part easily.
Also, you don't need to use rafts or build plate adhesion layers when using the glue, thus saving your time and materials.
Just like any other well-made glue that comes with an applicator, this one eliminates the risk of getting a clogged nozzle. The glue coating dries quickly to form a thin film which doesn't stick to a surface, thus leaving your 3D printed model and workspace mess-free.
However, there are some crucial things you need to keep in mind when using the glue. Bed Weld recommends you use the glue on heated build plates made from glass. Also, instead of applying it directly to aluminum bed surfaces, you need to place a layer of Kapton tape first and then apply the glue.
Highlighted Features
Prevents 3D print warping
Designed for use with hot build plates made of glass
Works with PLA, ABS, PETG, and CPE filaments
Eliminates clogged nozzle
It is water-soluble

Glue For PLA Buying Guide
Surface Preparation
You'll find a variety of glues in the market, and before purchasing the best glue for PLA, you need to know about the type of surface of your PLA model that you are going to put the glue on.
The surface can be either sanded or unsanded, and your choice of glue can greatly affect it.
For example, if you apply a particular glue to a sanded model, it may bond well, but if you use the same glue on an unsanded surface, it won't work.
Another thing to keep in mind is the surface area of PLA. Glues made for plastic typically work on any plastic surface as long as they have a small surface area and are not covered in dirt or grease. However, if you use glue to stick a part to a larger area, it won't work well.
As glues come in limited quantities, you can only expect them to join small pieces together.
Glue Capacity
Another factor that shouldn't be overlooked is the glue capacity of the plastic glue you'll be buying.
Glues come in small bottles because you usually need a small amount to mend broken pieces or simply attach a part to a surface. And, if you don't use it frequently, then it will last a long time.
On the other hand, if you plan on using the glue on bigger 3D printing projects, or if your work requires you to print often, then the best idea is to buy multiple glue bottles of the same product.
Drying Time
Different glues take different length of time to set on a surface. If you want your project to finish up quickly, then you will need to get a glue that cures fast.
Super glue is the ideal option for this because not only it dries within a matter of seconds, but also ensure the parts are bonded strongly and seamlessly.
One thing to keep in mind is that if you plan to apply super glue on parts made of soft PLA, it will not work. This is because soft PLA is flexible, and when the glue is cured, it forms a thin solid layer, which breaks easily.
Anti-Clogging Tube
A super glue tube with a clogged nozzle can be a pain in the neck. Clogging happens because after you dispense glue, the leftover contents accumulating in the nozzle dry up.
In that case, you might want to find a tube that has an applicator tip and a pin to minimize accumulation and wastage of glue.
Final Words for PLA Glue Buyers
Attaching your 3D PLA parts is no longer a strenuous task when you have the right glue in your toolbox. This is essential if you are going for a 3D printing business or an important project because you wouldn't want them to fall off!
Being experts in 3D printing, we know which glues works well on your PLA model, and so we shared the list based on our experiments with them. We want you to create a 3D model that you will always be satisfied with.
Hopefully, you have found the best glue for PLA after going through our recommendations.
PLA Glue Related posts:
Buy now at eBay, Walmart, Etsy (quality guaranteed)
J-B Weld 8237 PlasticWeld Plastic Repair Epoxy Putty - 2 oz. - Walmart, Etsy, eBay
Amazing Goop 140211 3.7 oz. All Purpose Adhesive, Clear - Walmart, Etsy, eBay
Loctite Epoxy Plastic Bonder 0.85-Fluid Ounce Syringe (1363118), Single, Amber, 8 Fl Oz - Walmart, Etsy, eBay
J-B Weld 50139 Plastic Bonder Body Panel Adhesive and Gap Filler Syringe - Black - 25 ml - Walmart, Etsy, eBay
Gorilla Micro Precise Super Glue, 5 Gram, Clear, (Pack of 1) - Walmart, Etsy, eBay
Technicqll Clear Adhesive Glue Super Gel for Pp Polypropylene, Pe Polyethylene, PTFE, - Walmart, Etsy, eBay